With their Leis kitchen tools, Ljubljana-based GigoDesign aims to revive the long-established Slovenian woodcraft tradition called "suha roba." For centuries, farm workers created wooden goods for everyday use in the kitchen and home–from toothpicks to spatulas, spoons, and ladles–selling them to traders from the Kocevje district who plied the Hapsburg crown lands and later the Kingdom of Yugoslavia. N.B. Should you find yourself near Vrhnika, the Technical Museum of Slovenia maintains an extensive suha roba collection.
Above: A Three-Piece Set includes a spoon, fork, and spatula and is €37 from Leis.
Above: The tools include an integrated magnet so they can be stored on any metallic surface.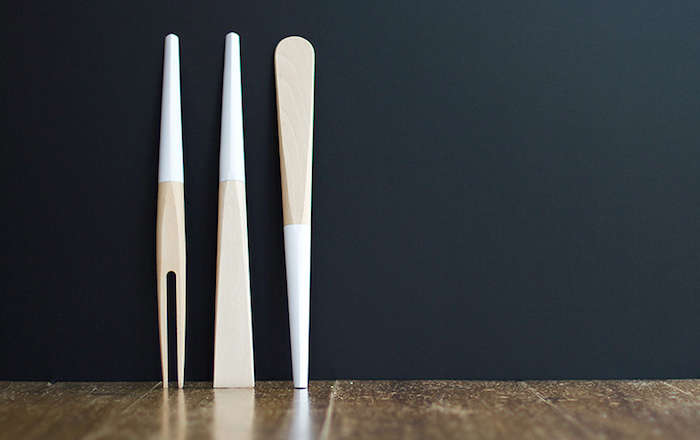 Above: The abstracted forms–fork, spatula, and spoon–are for use as serving pieces.
Above: The tools come packaged as a trio.
Interested in more handcrafted wood kitchen tools? Check out the wares from British carver E.J. Osborne of Hatchet & Bear.
N.B.: This post is an update; the original story ran on May 24, 2013 in our "Color Therapy" issue.