The owners of this handmade kitchen liken the design process to a trip to the farmers' market. They set off with no preconceptions of what they might achieve. Instead, they were led by materials. In the same way that good-quality, readily available ingredients often make for the tastiest dishes, by working with readily available, responsibly sourced British materials, they have crafted a kitchen from a material palette that sits together as naturally as a seasonal, locally sourced plate of just-picked ingredients.
We take a tour:
This is the kitchen of the British couple, Seb and Brogan Cox. Seb is an award-winning regenerative designer, craftsman and environmentalist working with UK woodlands; his partner, Brogan, is the creative director of Seb's eponymous brand. The couple moved into their Victorian terrace in the coastal town of Margate in 2020, taking on an unloved rental that had been badly refurbished over a decade ago.
As with most terraces, the floorplan was long and narrow. "When we bought the house, the kitchen was kind of cramped up in one corner of the room," explains Brogan. The proportions weren't overly generous, and a utility and outdoor toilet had been tacked on as an afterthought during the 1950s (more on this later …). The couple duly spent their lockdown days crafting a kitchen for their young family – a task that began by ripping up the linoleum.
Before long, Seb uncovered a giant stone hearth in the corner of the room. Further investigation revealed a shapely brick chimney stack. "We soon realized there must have been something really interesting in the corner of the room," recalls Brogan. "It meant we could have a wood burning stove in the kitchen, which felt really exciting to us," Seb adds. "Obviously, with the workshop, we have a large supply of fuel and – with the rising cost of energy – we feel incredibly grateful that we're able to have three wood burners in the house."
The couple purchased an Esse stove, that has become the heart of their kitchen. "As much as possible, we've tried to re-celebrate the Victorian parts of the house, which had been so sterilized by the previous renovation. And there's something so nice about putting a piece of cast iron back on that hearth."
The position of the wood burner "pushed everything down the room," explains Seb, who was keen to ensure the kitchen cabinetry "didn't impose itself on the space." Inspired by the simple shape and functionality of Victorian washstands, the pair designed a clean and simple row of cabinets with a central sink, stone countertop, white splashback and row of shaker pegs above. Although it is screwed to the wall, it has the feel of a freestanding piece.
The run of cupboards were crafted by Seb in his basement workshop from tiger oak. "We often try to work with overlooked, unloved and undervalued materials such as tiger oak," he explains. "Tiger oak is not a species: it's a bog standard oak tree that has been infected with beefsteak fungus. The tree's immune response to the fungal attack produces this amazing coloration, which makes it look like an exotic or tropical wood."
He continues: "The whole kitchen is a celebration of British hardwoods that have come from sustainably managed forests. We wanted to be able to demonstrate that we really need to use this material – that we don't need to go for homogenous, imported materials, because we have this great resource right on our doorstep."
In keeping with their material approach to wood, the couple sourced a British stone countertop from a quarry in Yorkshire. They commissioned the stone mason, James Elliott, to hone a heavily fossilized piece of British limestone called Swaledale. (Incidentally, it was sourced from the same quarry as the stone used to create Richard III's tomb in 2015.) "At one end, the stone has this orange streaking through it," Brogan points out. "It's not consistent at all, and some people might reject it as imperfect. For us, that really doesn't matter at all: the value comes through the meaning."
Above the counter, Brogan has sourced "the perfect white tile" from the Balineum handmade collection. The tiles differ in shape and size and have been arranged in brickwork pattern and a basketweave. "They are so neat and clean, without looking mass-produced," she explains. "Plus they've got this absolutely amazing, hand-cast, refractive quality." The tiles are framed with a solid oak shaker peg rail that stretches the length of the wall and provides a display area for the couple's art and ceramic collection.
The full-height pantry opposite is made from solid British ash stained a bright yellow. "At this moment in time, ash trees are being felled left, right and centre as part of the mitigation against ash-dieback," Seb explains. "Ash is one of those materials that's going to be abundant over the next few years before becoming much scarcer, so we are making a point of really celebrating it at the moment." The color was inspired by Seb's Barker collection – a small group of brightly colored pieces.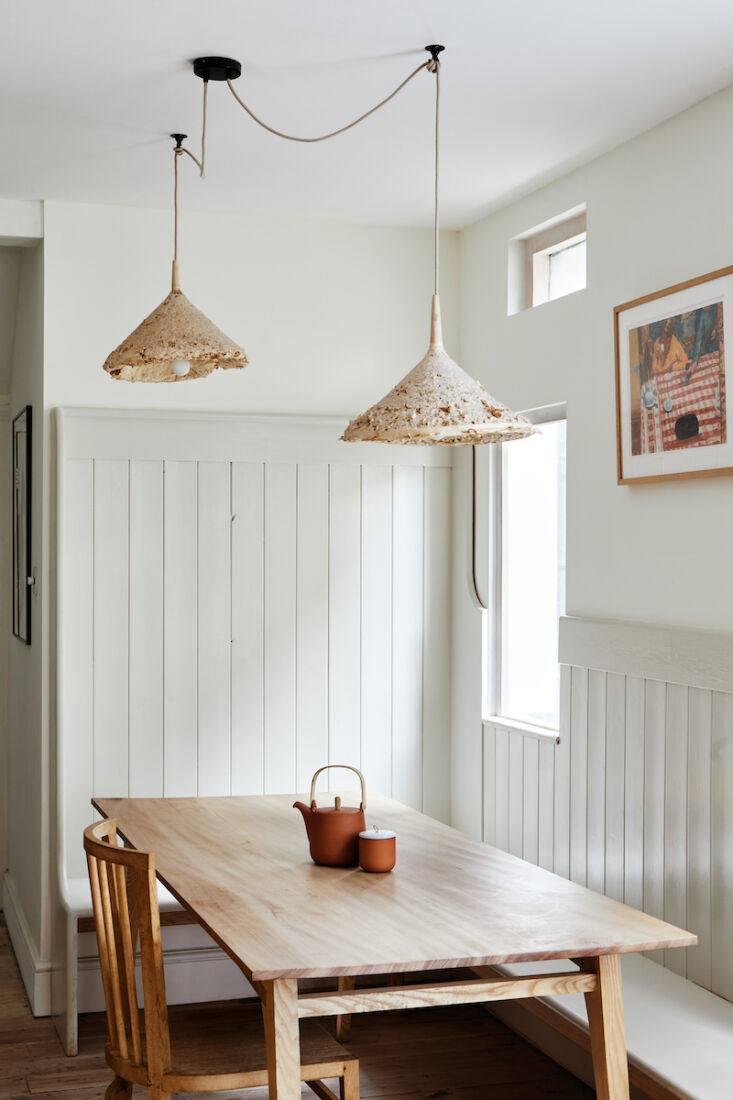 Next to the window is the dining area (part of the Bayleaf collection) and a bespoke settle made from reclaimed matchboard cladding that, in a previous life, formed part of an exhibition stand at Maison & Objet. "We were maybe going to find a reclaimed bench seat to go along the wall," Brogan recalls. "And then we had one of those lovely, rare evenings where we got to sit down with a drink and a meal and design something together. Because we were enjoying the design process so much, the piece just got bigger and bigger until it ended up becoming this L-shaped settle that hugs the window."
"It's also a really functional piece," adds Seb. "The room is fairly narrow at that point, so we needed a seat that allowed you to still sit comfortably at the table. Also, it's along a north-facing wall which can become quite chilly in winter. By extending the panelling to shoulder or head height, it maintains a sense of cosiness in that corner of the room."
"This is the first kitchen we've designed where we've been the customers," Brogan reflects. "We couldn't believe that it came together relatively quickly and with such finesse. It felt really achievable for us, whilst being simple and beautiful." The couple have been so inspired by the process – and the results – they have given the kitchen a name (the Sawyer – a homage to the timber yard and the timber miller) and added it to their core offering: a modular kitchen made from solid British wood. "It's been a real lesson in interior design," Seb concludes. "If you have the confidence to let your materials lead you through the design process, you can't go wrong."
You need to login or register to view and manage your bookmarks.