Meet the heavy metal kitchen: an all stainless steel design, from countertops to cupboards, imported from Italy for a Paris loft belonging to a young family. The 1,830-square-foot Républic apartment is the work of Hugo and Charlotte de Tonnac Sauzay, the husband-and-wife team at Festen Architecture, who devised a soaring white open living space with spiral metal stair—and a kitchen too beautiful to not be on full display.
Photography courtesy of Abimis.
An offshoot of hotel kitchen specialists, Prisma, Abimis was founded in 2013 to supply complete restaurant-grade designs for home settings. Abimis's work is fabricated to order and custom fit for each setting. Festen used the company's Ego line designed by architect Alberto Torsello.
Note the lack of sharp corners even on the flush-mounted doors: rounded edges, the company notes, are easier to keep clean and work well "with the actions of the user." The brass ceiling light is the Cliff Suspension by Remodelista favorite Lambert & Fils of Montreal.
There's a reason restaurants rely on stainless: In addition to being heat resistant and hygienic, it doesn't stain or rust. Learn more pros and cons in Remodeling 101: Stainless Countertops.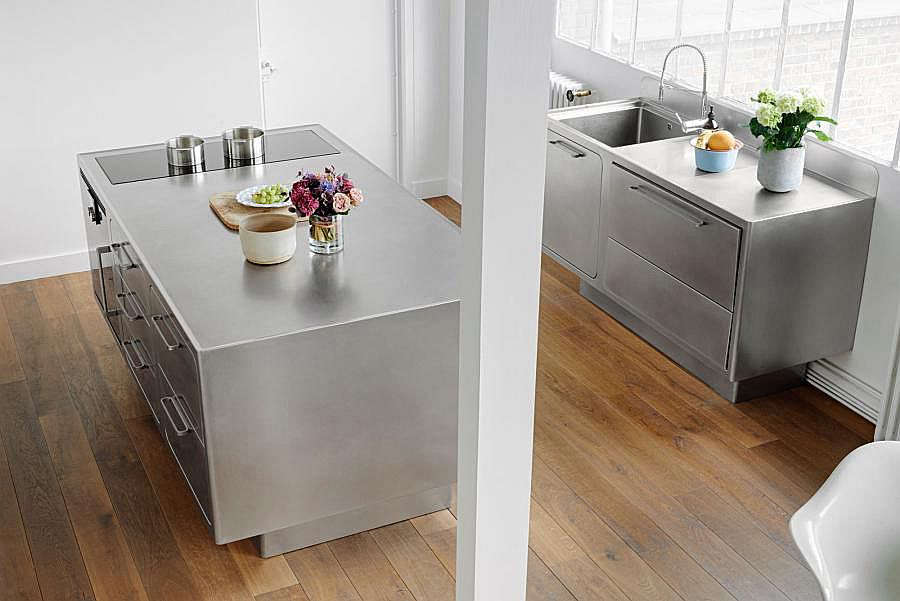 The sink is extra wide to accommodate professional-size cookware. There's a dishwasher next to it, and under it, a trash bin that's refrigerated to "reduce the proliferation of bacteria and bad odors."
Abimis ships its kitchens worldwide—prices on request—and sends a crew to do the final on-site assembly.
N.B. This post is an update; the original story ran February 11, 2016.
For more stainless essentials for the kitchen, see our posts:
You need to login or register to view and manage your bookmarks.