Fans of Plain English kitchen designs, meet the company's Japanese counterpart. Put together like puzzle pieces without nails or screws, KitoBito's solid-wood designs apply traditional Japanese techniques (and some Shaker designs, too) to clean-lined custom kitchens. Owner Masayuki Yoneto is a mortise and tenon master–prior to starting his own venture, he worked at the Sakura Shop, makers of George Nakashima's furniture in Japan. Based in the rural town of Misaki in Okayama prefecture, KitoBito–which translates as "trees and people"–is now run by Masayuki and his wife, Michiko, who, after marrying into the trade, went to school to learn woodworking herself. Their workshop is situated in two barns alongside their showroom, where they spend hours with clients, sipping tea, discussing kitchen details, and poring over sustainable Japanese wood samples. Come take a look at their work and where it gets made.
Photography by Yoko Inoue.
The Kitchens
Above: The KitoBito showroom houses Kaze, a fully detailed kitchen built from solid oak. The benefit of joinery is that it can withstand changes of temperature by having built-in give when the wood shrinks or grows, something particularly beneficial in humid climates. "Counters made of plywood usually have to be replaced after 20 years; they fall apart and get moldy," says Michiko. "Ours are designed to be used forever."
Above: Kaze's counters and cabinets were inspired by the fittings in old European butcher shops and have hardware made of blackened brass. "Unaffected and sincere" is the way the Yonetos describe their designs.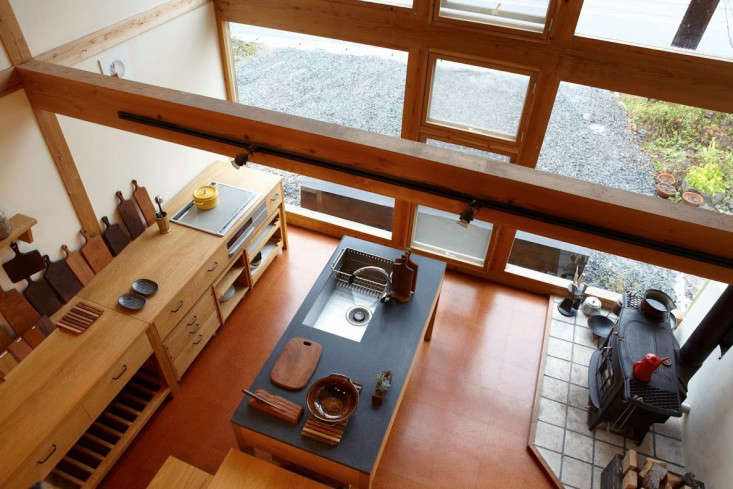 Above: The kitchen viewed from the showroom's loft. Kaze's counters are available in artificial marble (shown here) and stainless steel.
Above: Where do most clients put their excess kitchen accessories? "We suggest having a storage room next to the kitchen, but there's room in our designs for pots and pans, tableware–all the things that get used every day,"says Michiko. "Smart people don't want to add too much stuff."
Above: One of KitoBito's recent kitchens was designed for a newly built house in Kobe belonging to a young couple. It's made of oak from Akita, Japan, which is known for its sustainable forestry practices. Because the wood isn't old, Michiko points out, it's particularly knotty–something traditionally avoided in Japan, but a feature they and their client happen to like.
Above: The Kobe kitchen has stainless steel counters, shelving with a built-in tool rail, and subway tiles.
Above: A drawer displays KitoBito joinery.
Above: The Kobe kitchen opens to a dining area. Since tables and chairs are frequently requested, KitoBito makes those, too.
Above: A gray-tiled compact KitoBito design akin to the Kobe kitchen.
Above: The KitoBito showroom also houses an employee kitchen with an American black walnut counter and an American black cherry table. Lunch is cooked and served here daily.
The Workshop
Above: Masayuki built the KitoBito barn himself in 1997 from trees cut down on his father's nearby property. It's one of two side-by-side workshops.
Above: Cabinets left over from a project were put to use in the barn; they're finished with green chalkboard paint and illustrated with what they contain.
Above: Even the equipment is atmospheric. "We bought used machines and maintain them well; this planer is from 1976."
Above: Masayuki checking a tenon.
Above: Working on a cabinet frame.
Above: A ladder displays saw blades, a gift from an architect who found them in an old house that was being demolished.
Above: A well-used vise known as a third hand.
Above: Masayuki, center, with two of his crew. Go to KitoBito to see more.
Getting ready to design a kitchen? Take a look at some of our recent posts:
And for remodeling advice, from counter materials to lighting, read our Remodeling 101 posts.