There's something reassuring about the British monarchy (perhaps that's why we find ourselves coveting tea towels with royal insignia), so in honor of the impending nuptials, we called on our friend Megan Wilson of Ancient Industries to put together her selection of British goods for the royal registry. Here are her suggestions:
"Kate and William are a modern couple. They do not employ domestic servants, they live in a rented cottage, and they push a trolley round their local supermarket. Yes, William's surname is Wales, as in William of Wales (which is also where they live), but he and Kate are doing things their way. Here are a few ideas for gifts fit for the royal couple."
Above: "While we suspect that this modern couple on-the-go may be fond of dunking a tea bag in a mug, they might discover the joys of brewing their tea in a Brown Betty Tea Pot. Perceived as The People's Teapot, it was actually popularized by great-great-great-great-great granny Queen Victoria, who would not be amused by tea bags; $30 from Ancient Industries."
Above: "As we now know, Kate is actually Catherine, which has caused some controversy over which initial to use for monogramming purposes. These Right Royal Mugs neatly sidestep this dilemma. £10 each from Whitbread Wilkinson."
Above: "The wool mills of Wales are an important local ancient industry, and this modern young couple would appreciate the groovy new interpretations of the traditional Welsh blanket. Mondo Denim Cushion for £49, Marina Denim Small Cushion for £39, and Multicheck Blanket, from £178."

Above: "One thing that every newlywed should know is how to scrub the hearthstone, and a proper wooden Scrubbing Brush with natural bristles is a good place to start; $20 from Ancient Industries."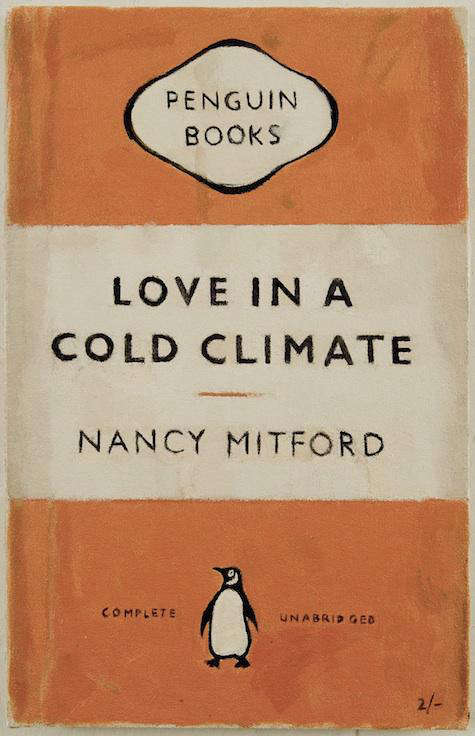 Above: "Kate and William met and fell in love in the cold climate of St. Andrews University in Scotland. This painted book cover by Duncan Hannah would add a bookish, educated air to the cottage, without all the bother of owning dusty old books."
Above L: "They might not know it, but the greatest salt in the world, Halen Môn, is produced right on their doorstop, harvested on the coast of Anglesey, or Ynys Môn to the natives. From £1.40 depending upon size. Above R: Without a cook, and with a husband who is famously inept in the kitchen, Kate might try her hand at baking. What better aid than this Blackbird Pie Vent, which so slyly refers to the nursery rhyme about the several blackbirds who were baked in a pie and set before the king; £6.15 from Fortnum & Mason."

Above: "All males, even princes, can barbeque, and it might behoove William to wear this 100 percent cotton Made in England Apron when grilling for foreign diplomats; £19.95 from Go British."
Above: "Though William and Kate may be the good son and the good daughter, they both have wayward family members. This Union Jack Skull Tapestry Kit is a nod to the skeleton in every family closet, royal or otherwise; £72 from Liberty of London."
(Visited 4 times, 1 visits today)