We love this concept, hotel apartments outfitted with stylish, utilitarian furniture and accessories from Muji. Whotells in Barcelona offers four distinct lodging options in different neighborhoods of the city, all furnished with Muji products (in four palettes: blue, green, orange and gray); think simple, functional Japanese design. The apartments are available on both a long and short-term basis and can accommodate anywhere from three to nine people depening on the unit. For detials, go to Whotells.
Above: A view from the Barceloneta Apartments with instant access to the beach.
 Above: The entry to the Raval Apartments.
Above: Open plan living.
 Above: The simple streamlined kitchen.
Above: A green themed bedroom.
 Above: A penny tiled bathroom in a Raval apartment.
Above: Each of the different locations has a separate color theme, the Barceloneta properties being shades of blue.
Above: The Muji furnished, orange themed Eixample Apartments.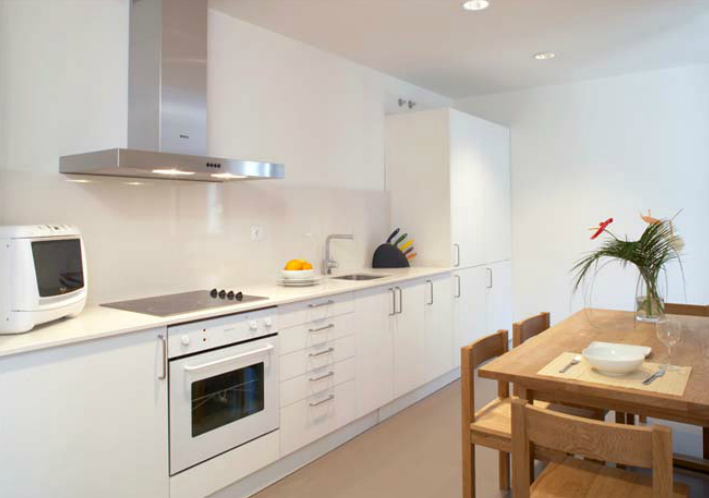 Above: An Eixample apartment kitchen.
Above: The latest addition to Whotells: [email protected] located less than 200 metres from Bogatell Beach in the Sant Marti district of Barcelona.
N.B.: This post is an update; the original story ran on February 5, 2010.
For more sights and lodgings in Spain, see Travels with an Editor: Barcelona publishing on Gardenista this week.
(Visited 10 times, 1 visits today)