Shopping at Berkeley's Tail of the Yak is like stepping into an alternate reality: You'll walk out with something you didn't know you wanted/needed: in my case, a little black pompom and some pale paper flowers.
Co-founded by Lauren and Alice, Tail of the Yak specializes in antique jewelry, textiles, glassware, candles, and paper (paper garlands, streamers, lanterns, boxes, and even lotus flowers). Ideas flow freely: For instance, one quiet afternoon, Alice began twisting scraps of paper into shapes that would eventually form into flowers dip-dyed in India ink.
Photography by Mimi Giboin for Remodelista.
Above: Tail of the Yak is located at 2632 Ashby Avenue in Berkeley, CA.
Above: Garlands of bay laurel adorn the space. A pair of pastel Venetian glass chandeliers hang from the ceiling; the fixtures were sourced from an SF auction; Lauren and Alice drove them across the bay in their pickup truck.
Above: Antique vases and colorful paper boxes.
Above: Delicate gold and silver cards are stacked among hot-pink-stamped journals.
Above: Cyclamen flowers by Anandamayi Arnold are made of paper and unwrap into ten different strands of crepe paper.
Above: Bright spools of satin and silk ribbon are stacked near the front window.
Above: Stacked antique textiles in a dark wooden cupboard.
Above: A stack of antique Ukrainian textiles dating back to the early 19th century.
Above: Pink apple-shaped paper boxes made by Teresa Weller feature hidden flecks of gold.
Above: White parrafin and yellow beeswax tapers wrapped in pink satin ribbon.
Above: Taupe and ochre linen napkins from the Czech Republic.
Above: Items are packaged and ready to ship. Tail of the Yak will ship just about anything except for their glassware; contact the store for pricing and availability.
Above: Pale purple lotus flowers made of paper by a local Berkeley artist.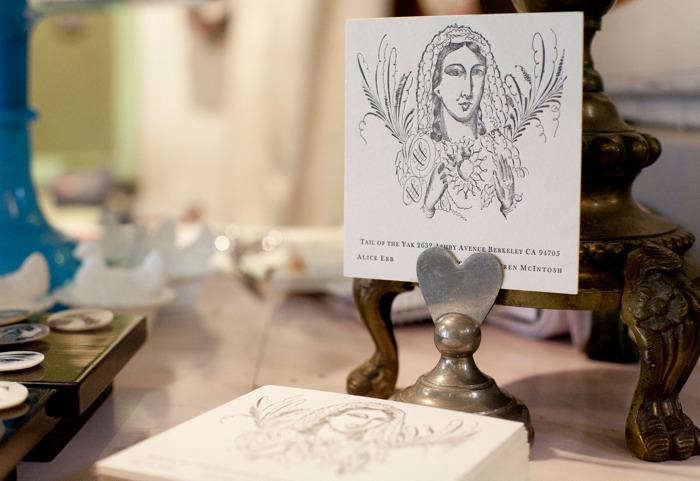 Above: Down to the store's business card, every little detail counts.
(Visited 26 times, 1 visits today)