If anyone knows how to make domesticity interesting, it's Alastair Hendy, the British chef and photographer. His new Home Store in Hastings, East Sussex, mixes a dash of history with a bit of theater—offering a mix of old and new utilitarian objects.
A design impresario, Hendy's resume includes: Theater and costume designer at Central St. Martins; display manager at Habitat; chef for Antonio Carluccio; cookbook author; and well-known food and lifestyle photographer. His interests converge at Hendy's Home Store, where he sells vintage tableware, brooms of every kind, candles, sinks, garden tools, and even some sensible furniture. On the weekends when he's is down from London, the shop is also a restaurant, where Hendy serves up simple plates of fresh-off-the-boat seafood. "I am not an ornament person," he says. "I like practical things, such as scissors, brushes, and string. My mum was a collector, and my grandfather—well, his life was held up by string; bailer's twine held his coat together. It's in my blood."
Above: The store is housed in a three-story Georgian townhouse, which started life in 1823 as a soda-bottling shop. The restoration of the building took three years.
Above: Hendy has been collecting the wares over the past decade.
Above: Hendy's Home Store is modeled on a traditional department store; selling a little bit of everything.
Above: The proprietor's experience in shop displays is evident.
Above: A full set of Woods Beryl Ware: "A pale green tea china that would befriend a rock cake or a shortbread slice," says Hendy.
Above: Ceramic milk pitchers with bold graphics.
Above: A range of household objects on display in wooden bins.
Above: Sensible furnishings like sinks and lamps are also available for purchase.
Above: Spools of thread with their original packaging.
Above: A vintage desk lamp along with rustic linens.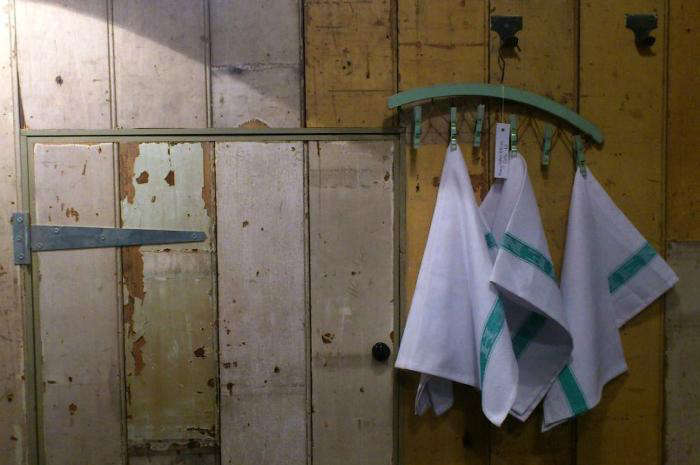 Above: Glass cleaning cloths hang from a drying hanger.
Above: The brooms and brushes range from ostrich feather dusters and goat's-hair parquet-floor brooms to copper-wire barbecue scrubbers and horsehair cobweb brooms.
Above: Seafood fresh-off-the-boat is available on the weekends.
Above: The store label is reminiscent of tea bags.
(Visited 16 times, 1 visits today)