For a while now we've been noticing (and admiring) graphic messages as art: on posters, calendars, and painted directly onto walls.
Above: "I Love You" is painted on the door from an interior remodel by Seattle architect and designer Roy McMakin of Domestic Architecture.
Above: Massimo Vignelli's Perpetual Wall Calendar is made of heavyweight paperboard in Italy; $78 at Fitzsu.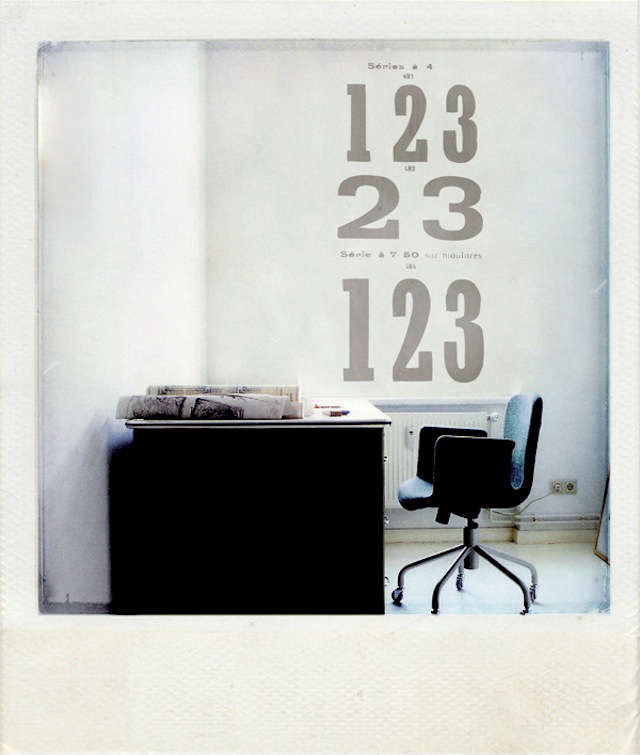 Above: Numerical stickers from French company Harmonie Interieure; prices start at €22 for a 60-by-35-centimer decal (US shoppers can use PayPal or credit cards); peruse the line at Harmonie Interieure.
Above:For homesick New Yorkers; framed vintage bus scroll from the 1940s; from San Francisco designer Will Wick at Sarlo Wick on 1st Dibs.
Above: Drum as art; photo by Richard Birch.
Above: Schoolhouse Numbered Hooks are $15 each from Pottery Barn.
Above: 100 percent cotton/linen Numbered Edition Napkins; $120 for a set of six at Supermarket.
Above: A storage cabinet pictured on Emma's DesignBlogg (L) and Blik Prose custom adhesive words for your walls (R). Go to What Is Blik and submit your words for a price quote.
Above: Oil and Vinegar Cruet in the Bauhaus Tradition; £14 each from Manufactum, designed by Bauhaus potter Theodor Bogler.
Above: A message printed on the wall from Varpunen.
N.B.: This post is an update; the original story ran on May 1, 2008.
(Visited 20 times, 1 visits today)