Michael Robbins, a native upstate New Yorker who studied photography in NYC, builds his furniture from salvaged pieces from Dutch barns (though you'd never guess it). Robbins, who debuted his line in fall of last year, learned woodworking during his time on a trails crew in the Adirondack Mountains, where he picked up the skill from a local–"my work draws from simplicity, utility, and a joy of form," he says. The joy for Robbins began with stools and chairs; he's since expanded into lighting and large-scale dining tables. Available through Michael Robbins Studio at the Culture + Commerce Project in Hudson.
Above: The Big Bend Chair is made from black walnut or white ash wood, or a mix of the two.
Above: The Golden Floor Lamp measures 72 inches tall and is available in poplar (for a golden look) or walnut.
Above: The Russet Chair is made from poplar, black walnut, or ash and coated in colored enamel.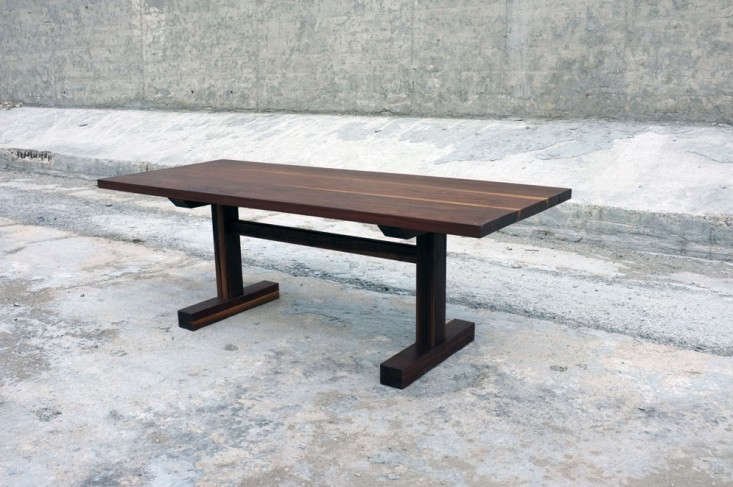 Above: A robust Trestle Table (in black walnut or white ash) sits outdoors.
Above: Made from woven white or black canvas with ticking stripe detail, the Lounger is built from a maple or walnut wood frame. 
Above: The Tesuque Stool measures 24 in a half inches tall and is available in black walnut (shown), maple, ash or enamel.
Above: Custom Rolling Pins start at $62.
For those who share an interest in chair design, sift through all the Chairs and stools featured on the site in our Shop section.
(Visited 7 times, 1 visits today)