Spotted at Good Egg in Toronto: brightly colored linens by local company Pehr Designs, good for adding a dash of color to the holiday table. Made in India of a blend of natural cotton and linen, the napkins, tea towels, placemats, and runners feature a harmonized color palette, allowing you to mix and match effortlessly ("to achieve what the Italians call sprezzatura, or studied carelessness," according to the Good Egg owners). The linens are available at some of our favorite stores, including Ochre in NYC and Lotus Bleu in San Francisco, they're also available online from Hudson in Boston.
Above: Fish Scale Napkin; $12 at Hudson.
Above: The napkins are made of a linen-cotton blend.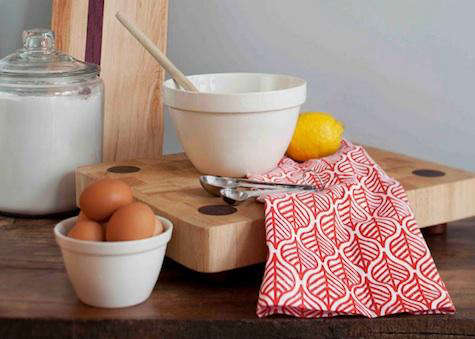 Above: Leaf Napkin; $12 at Hudson.
Above: Starburst Citron Napkin; $12 at Hudson.