At a recent editorial meeting, we started discussing rugs, and it soon became apparent we were in need of enlightenment. But whom to ask? We immediately thought of Ben Soleimani, who, when still in his teens, moved to LA and opened an outpost of Mansour, his family's London rug and carpet business; he's never looked back.
The fourth-generation rug dealer and designer, who was born in Iran, raised in Britain, and now makes LA his home, presides over the largest (and finest) collection of antique rugs and tapestries in the world (the company is also purveyor to the British royal family). Several years ago, Soleimani opened Mansour Modern on Melrose Avenue with the aim of introducing high-end modern rugs to the market. Most recently, he has collaborated with Restoration Hardware, introducing a line of well-made, more accessibly priced rugs. Here, we ask him everything we wanted to know on the topic. Read on:
Above: The polo playing, jet setting Ben Soleimani is most passionate about creating the best rugs in the market.
Remodelista: What should we look for when buying a rug?
Ben Soleimani: If you had asked me 20 years ago, I would have talked about how fine the material was and how well it was made, but today it's more about the texture. I like a unique texture that doesn't look flat, that has more dimensions; the more uneven the better. It shows it's handmade, and we have to celebrate that. People are now realizing that texture adds depth, and I love that—it's a great evolution.
RM: What rugs are people most interested in?
BS: People like more simple things these days. I try not to dye the wool we use. It's so easy to dye things and create something artificial. It's harder to use natural materials, but we use a lot of green fibers and have been working with hemp for 15 years now. The process for me is all about the handmade and the natural.
Above: A rug from the Textura Plaited Wool collection by Ben Soleimani for Restoration Hardware.
RM: What sort of rug would you recommend for a small space?
BS: Covering a small space depends on so much, everything form the windows and light, how open the space is, to what the floor is made of. One thing I try to do in a small space is to have the furniture all on the rug as it makes the room looks bigger.
RM: Large spaces?
BS: I don't like to see two edges next to each other, unless you use the same neutrality; rugs should not compete with each other. I like one large rug in a large space or to layer rugs.
Above: A rug from Mansour in the living room in tin a North Carolina home by architect Russell Groves shown in Architectural Digest.
RM: Furniture on or off the rug?
BS: I like to have the furniture on the rugs. Think of the rug as the base of the room that carries everything. It's a distraction when the furniture is half off.
RM: How much of a room should a rug cover?
BS: If a room is 14 feet by 18 feet, then have a rug that is 10 feet by 14 feet, so there is a couple of feet around the edges. Obviously, it depends on the scale and style of the room. In a contemporary space with beautiful floors, a nice small rug with a table on top.
Above: Sloane (L) by Ben Soleimani in Greige and in Navy (R) for Mansour Modern.
RM: Plain or pattern?
BS: I like simple patterns and rugs that can be used. I don't make crazy loud rugs—I am not creating a painting on the floor. A rug is a base that should welcome things on top of it and not compete.
RM: Best way to clean a rug?
BS: The old-fashioned way, by hand. Don't use a machine or chemicals.
RM: Padding beneath a rug?
BS: Rugs need to be laying flat, and you need to find the right pad. A thin rubber pad should have holes in it to breathe, otherwise it can destroy the floor.
Above: The Dara Rug in cream by Ben Soleimani for Restoration Hardware.
RM: What's next?
BS: I want to create rugs for everyone in the country, from the very top of the line to the affordable—everyone should have a beautiful rug in their house.
RM: Advice on buying a rug?
BS: Buy less, but buy better—buy the best. I make my rugs with an old mentality. I want them to be around in 100 years.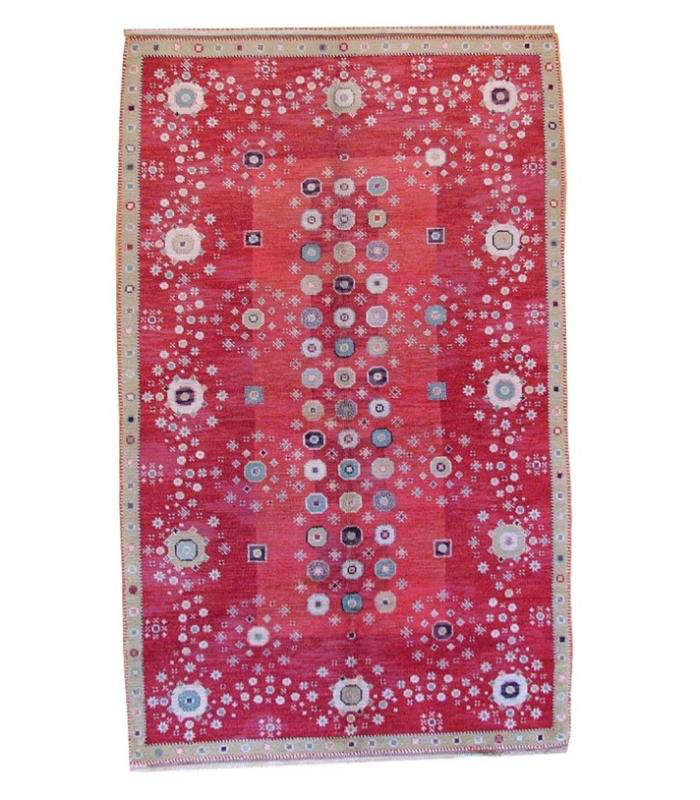 Above: An antique Scandinavian early 20th century rug from Mansour.
RM: Dream rug?
BS: I love Swedish carpets from the mid-1920s, especially from designer Marta Maas-Fjetterstom. She created really simple, clean textural rugs that were hand bound. They are not 100 percent perfect, but they have this great natural quality.
Want to learn the secrets to designing a bathroom, living in a small space, or taking care of your wardrobe? See more of our Expert Advice posts.
See more Rugs.
(Visited 141 times, 1 visits today)
Frequently asked questions
Who is Ben Soleimani?
Ben Soleimani is the CEO and founder of Mansour, a luxury rug company, and the Soleimani brand.
What are some of Ben Soleimani's design influences?
Ben draws inspiration from travel, fashion, and architecture when designing rugs.
What is Ben's design philosophy when it comes to rugs?
Ben believes that a rug should be functional and beautiful, and that it should complement the surrounding space.
What are some tips for selecting the right rug for a space?
Ben suggests considering the size of the room, the function of the space, and the existing decor when selecting a rug. He also recommends choosing a rug first and then building the rest of the interior around it.
What is the process for designing and creating a new rug?
The design process starts with an idea or inspiration, and then the design team develops a concept and creates a drawing. Samples are then made, and the prototype is refined until the final product is produced.