We might be locavores when it comes to our food, but when it comes to building a home, it takes more discipline to seek out American-made products especially when larger amounts of money are in play. We wanted to know what US sources the professionals recommend for home construction, so we turned to Lake|Flato Architects (members of the Remodelista Architect/Designer Directory), a firm noted for their modern sustainable architecture. Architect Brian Korte and LEED AP Vicki Yuan pulled together some American-made products and materials "that enhance a sense of place, promote low environmental impact, and reinforce a building's connection to nature," as Korte says.
Lake|Flato's Korten and Yuan's list of recommended US sources for materials:
Domestic Woods
With the growing popularity of South American hardwoods bringing concerns over responsible forestry practices, it's a good reminder that we have an abundance of domestic woods available for use in a variety of applications.
Above: Porch House in the Texas Hill country with eastern red cedar siding and rolling slat screen walls in a covered breezeway.
We frequently use natural wood as building siding in protected, covered locations to minimize its exposure to weather and maximize its connection to the human touch. See the use of stained western red cedar in the Yee Residence in Carmel, California.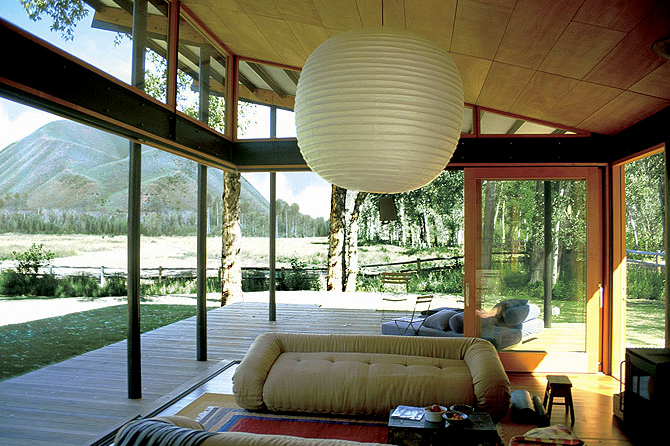 Above: A clean cedar plywood ceiling in a pool pavilion in Hailey, Idaho.
Plywood, long considered as a substrate for finishes, can actually be an economical and a beautiful solution for walls and ceilings.
End grain wood was historically used for street paving for its economical, durable, and noise-buffering qualities, and its use today fits in beautifully in modern settings, showcasing the most interesting cut of wood, its cross section.
Locally Quarried Stone
We're extremely lucky in Texas to have excellent stone masons drawing upon a rich tradition of masonry construction, and as our practice has grown to include projects all over the country, we continue to prioritize sourcing natural stone within 500 miles of a project location, resulting in a celebration of place.
Above: A home in Dallas featuring Texas limestone with a German smear mortar joint technique.
In Texas, limestone is an abundant and durable building material with a surprising versatility, from natural roughback exterior walls, low maintenance floors that soften the transition to landscaping, honed stone tile for shower applications, and even as a countertop material.
Above: Drystacked stone from the Shenandoah Valley for a residence in Rockbridge Baths, Virginia.
Concrete
The use of concrete for building elements, flooring, custom countertops, and sink basins offers a durable, modern, and natural building material with an organic (read: imperfect) quality, but sometimes we enjoy that imperfection.
Above: Polished concrete floors with exposed aggregate in a residence in Austin, Texas
Polished concrete floors with exposed aggregate reveal the composition of the material, a beautiful texture and can be see in this residence in Austin, Texas.
US-Made Building Products
Above: A rain chain on a lake house in Horseshoe Bay, Texas.
Rain Chains from McMaster-Carr. We love to use rainchains instead of metal downspouts to channel rainwater to landscape catch basins or rain water cisterns, as they are aesthetically pleasing and they also perform well too. Standard off the shelf Grade 100 plain steel chain is a favorite since it's inexpensive and easy to get.
Above (L):  Detail of a cable guardrail for an office in Denver. Above (R): Cable stair railing at a lake house in Horseshoe Bay, Texas.
Stainless Cable Rails for guardrails sourced from Hayn Lines and Seco South. For stair railings and guardrails, stainless steel cable rails satisfy building code requirements yet appear thin, maintenance-free, and almost transparent from a distance.
Big Ass Fans. The humorously named company Big Ass Fans had its roots in industrial facilities, but increasingly we are using these large ceiling fans in residential outdoor living rooms and porches for their modern appearance and low velocity air movement.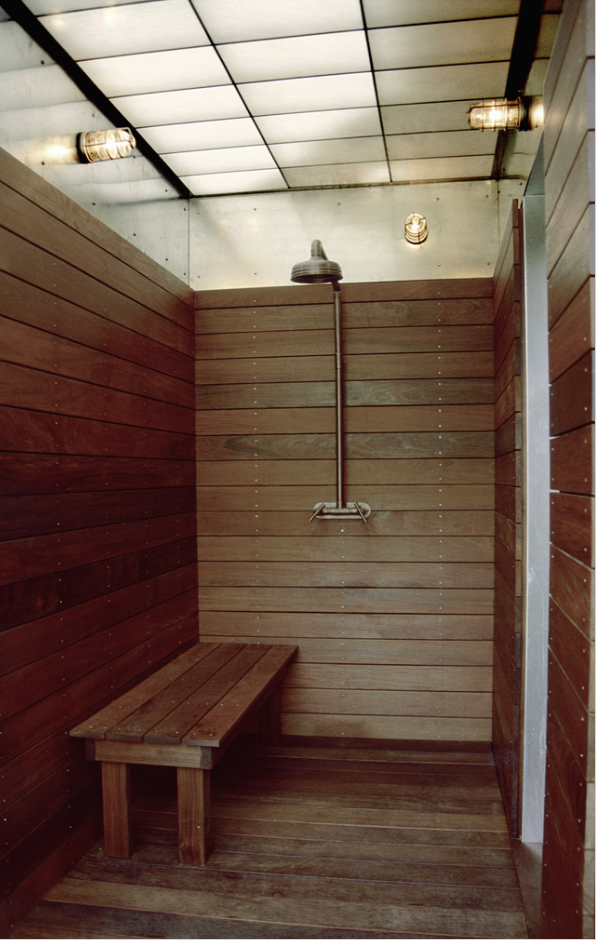 Above: Jelly jar fixtures mounted in an indoor/outdoor shower for a pool pavilion in Hailey, Idaho.
Lutron Roller Shades. For the large expanses of glass in our houses, Lutron's motorized roller shades are super quiet, offer great solar control, a minimal appearance, a variety of fabric options for color and transparency, and can be integrated with lighting controls.
Above: Wm H Jackson rolling fireplace screens.
The Wm H Jackson Company rolling fireplace screen is our essential fireplace accessory; when not in use, it rolls up completely out of view.
See more work from Lake|Flato Architects including their answers to reader's questions regarding their Porch House.
You need to login or register to view and manage your bookmarks.