The winner of the 2018 Remodelista Considered Design Awards Best Professional Living/Dining Space is Herringbone Design for its Spanish Bungalow Redux project in Pasadena, California.
The project was chosen as a finalist by guest judge Jenni Kayne, who loved "the pottery displayed on the shelves and the use of wood throughout the space."
N.B.: This is the third of six posts spotlighting the winners of the 2018 Remodelista Considered Design Awards. Go to this year's Considered Design Awards page to see all the entries, finalists, and winners, and have a look at Gardenista's Considered Design Awards.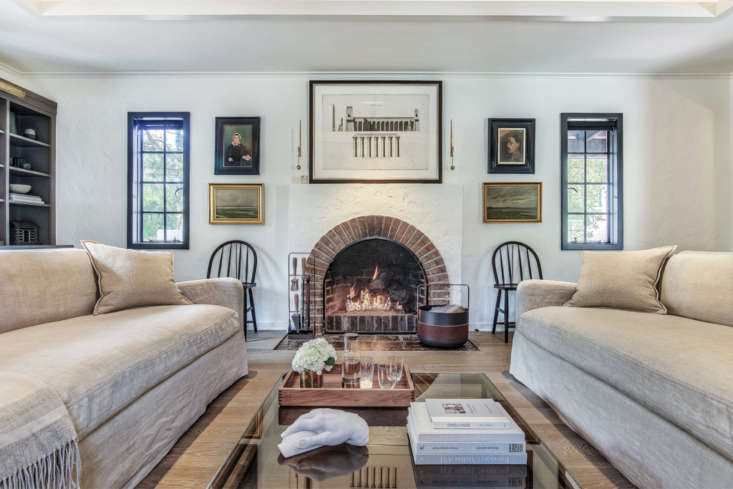 Herringbone Design's Design Statement:  "This 1924 Spanish bungalow was brought back to life with a complete remodel. The merging of its modest Spanish architecture and a love of all things Scandinavian has given birth to what the firm's partners jokingly call "Spandinavian Design." The result is a home rich in character and charm."
Remodelista: What does your firm specialize in?
Herringbone Design: Herringbone Design is an interdisciplinary design collaborative specializing in interior design, interior architecture, and product design. While our work is primarily in the residential and resort realms, we have also developed a specialty in yachting design. Product design is also real passion, and we look forward to the upcoming release of our eponymous furniture collection in 2019.
RM: Who worked on the winning project?
HD: Jeffrey Botwin and Philip Howlett, the principals of Herringbone Design, worked with Herringbone Design designer Lucie Nguyen, structural engineer George Kiledjian, and general contractor Lannen Construction.
RM: What were your practical goals for the project?
HD: We needed to coax this 1924 residence from the last century into the current one. This meant updating all the vital house systems, and doing a major reconfiguration of the floor plan. As is sometimes the case with Spanish-style homes, the space was rather dark, somewhat claustrophobic, and composed of a warren of tiny rooms. We were able, however, to perceive the bones beneath the heavy plaster skin and sense the hidden promise of the structure underneath. We vastly improved the overall circulation and created a sense of continuity and flow from one room to the next that did not exist before. We also pulled light and air into the space with the addition of several pairs of French doors and the pop-up tray ceiling in the living room. All was done with a respect for the house's character and vintage, but with a mindful eye to how we live today.
RM: What solutions did you find to your design problems?
HD: The majority of the solutions to our design problems were structural in nature. The house, originally designed by architect Harold Huxtable Martin, is a fine example of his well-known work in reinforced cast concrete, but this building method makes modifications quite difficult. The simple addition of French doors, for instance, quite literally became an engineering feat requiring a wildly over-structured steel frame to support the newly punctured concrete.
The other real issue was the segmented nature of the rooms. A perfect example is the kitchen and dining room. Although existing side-by-side, these modestly sized spaces were living like strangers. In an effort to create a better relationship between the two, we removed the solid wall and replaced it with a pair of architectural windows atop two lacquered pony walls. This solution created a sense of transparency and laid-back intimacy between the kitchen and the dining room—much more in sync with how we live and entertain.
RM: What is your dream project, or who is your dream client?
HD: Our design dreams always begin and end with one essential component: good client chemistry. Our dream client is one with a sizable budget, yes, but more importantly a commitment to and understanding of the importance of a thoughtful design process. We believe strongly that it is in the layering of small, thoughtful details that an unforced harmony is achieved. Good taste is always helpful but not essential as long as there is trust and a strong collaborative bond. A sense of humor is vital. And finally, it is a blessing to have a client that maintains a sense of gratitude for their good fortune and a sense of perspective. After all, if the shared purpose is to create an environment for the people we love, why not make the process a joyful one?
Our dream project?  Let's see if we can be specific…A boutique hotel in the south of France, or a private residence in the Cyclades. Oh, wait, and definitely a restaurant in Copenhagen! Sublime!
RM: What was your biggest splurge?
HD: Honestly, because we were the client, the whole project felt like a splurge. You become accustomed to doing things at a certain level for your clients, and yet when you do it for yourself it's still somehow a rude awakening! Biggest splurge? Probably the custom-fumed oak flooring by SFC Flooring, or the pop-up tray ceiling in the living room, which required a load of engineering and extensive reframing.
RM: If your room was a celebrity, who would it be?
HD: Yea! We love a good exercise in interior design personification! Alicia Vikander. Can't tell you exactly why…it's just a feeling, but hey, she is Swedish.
RM: What is your favorite local shop?
HD: Local for us just means where we are at the moment. With that said, here are a few of our faves in several locations:
RM: Which architects or designers do you admire?
HD: We admire many, but here is the shortlist:
Architects: Carlo Scarpa, Gunnar Asplund, and Irving Gill
Designers: Ilse Crawford and Axel Vervoordt
Danish Furniture Design Masters: Hans Wegner, Ole Wanscher, and Kaare Klint
And finally, we would be remiss if we did not mention our mothers. Both were women of superb taste and design prowess—clearly our original mentors!
(Visited 49 times, 1 visits today)