It's natural to be influenced by your travels and to pepper your home with interior souvenirs. For instance, after vacationing in the Southwest one year, I became enamored with desert style and promptly picked up a few potted succulents, a Cosanti wind bell, and a couple throw pillows in that peach-coral hue so popular in that region of the country.
Few among us, though, can claim to return from a trip and build an entirely new house inspired by the local architecture spotted while on vacation. But such is the case with Vikki, the globe-trotting client of Australian architecture firm Curious Practice. "Vikki traveled extensively through Southeast Asia and the Pacific Islands and was taken by the sense of connectedness and kindness of family in the more traditional regions," says architect Warren Hasnoot, explaining the unconventional design of her Newcastle beach house.
Instead of bedrooms shunted into hallways, they are open to the main open kitchen and living area to encourage congregation and connection. Instead of doors that close people off from one another, there are blinds for temporary privacy. And instead of layers of plaster and molding and paint on the walls, the frame of the house was left exposed and unfinished, a choice that fit both the client's budget and preference for honest materials. (All told, the project came in at just under $400,000.)
"The brief was always described as a flexible home that could accommodate different family arrangements, but mostly Vikki spoke about the grandchildren and an interesting place for them to explore and feel safe," says Warren.
By these measures (and more), Curious Practice has succeeded. Let's take a tour.
Photography by Katherine Lu, courtesy of Curious Practice.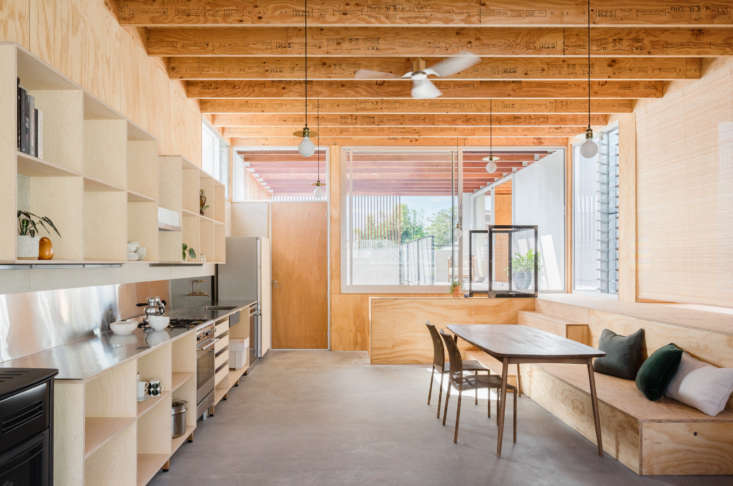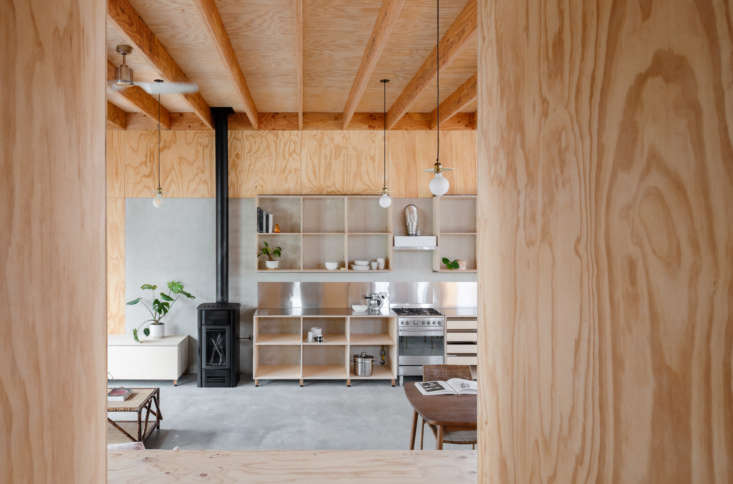 For more minimalist architecture, see:
(Visited 489 times, 1 visits today)