María Alejandra Gottelli lives to make the world a more beautiful place, both sartorially and ethically.
With her sustainable clothing and housewares line Cubreme, the Argentinean designer has a deep-rooted investment in creating timeless pieces that emphasize "the genuine legacy of style" while also respecting the artisans. From menswear coats that rival detailing seen on Savile Row to thick throws and pillows, everything is made with organic fibers from merino sheep, lllamas and guanacos raised naturally in the Cuyo and Patagonia regions of Argentina. The cotton used is chemical-free, sourced from small producers in the northeast.
Gottelli not only weaves in an ethos of sustainability but also of history; many of her designs are inspired by personal experiences or clothing items once worn by family members.
Photos by Dominique Besanson (except where noted). For the complete line and ordering and pricing information, visit Cubreme.
Above: The "homeware" clothing collection consists of pieces perfect for lounging or weekend wear. "Comfortable, leisure clothing made of organic cotton, for men and women," says Gottelli.
Above: Fringed blankets and throws displayed on an antique ladder. Photo by Paula Alvarado.
Above: The men's and women's winter coats are made of organic llama and merino wool and come in rich hues such as smoke gray, havana, and caramel.
Above: Lightweight knits and spools of merino wool at Gottelli's Palermo Soho boutique. Photo by Paula Alvarado.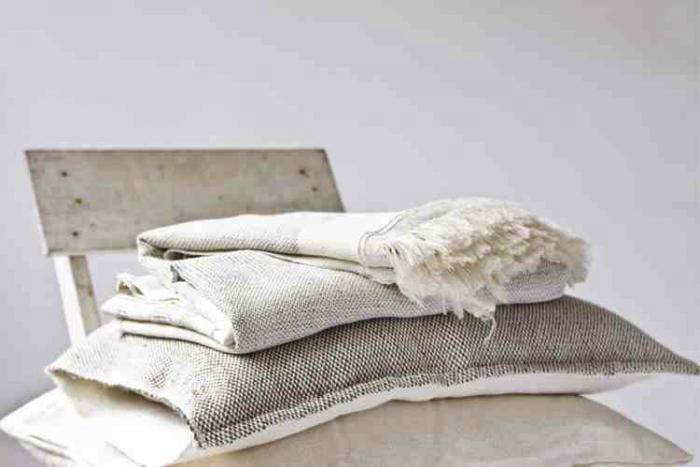 Above: Each pillow is made of organic llama, bamboo, or cotton; the filling is made of the soft wool that remains after the first combing.
Above: An assortment of women's shorts, shawls, and tops on display at Gottelli's Palermo Soho boutique. Photo by Paula Alvarado.
N.B.: Looking for more organic textile inspiration? Start with 12 Images of Natural Wool Fabrics in our Room Gallery and expand your search.