If you're in need of a new suite for your tabletop—plates, glasses, and flatware—but lack the patience to seek and assemble the parts, have a look at Year & Day—the latest in a new wave of brands aiming to disrupt the way you shop for housewares. Year & Day wants to bring high-quality tableware—each piece is made by hand in Europe—to the masses at an affordable price and, most importantly, through an easy online shopping experience.
To order, follow along with the company's short Survey (it's only four questions) about your tableware needs: how many people at home, how often you entertain, whether you like to cook. Choose your preferred color palette (of four basic colors) and Year & Day will direct you to the ideal number of plates, bowls, flatware, and glassware to fit your needs.
Note: The company, based in San Francisco, is just getting started—so while flatware and glassware is available to buy now, ceramics will ship in May.
Photography courtesy of Year & Day.
Most items at Year & Day are sold in bulk (sets of four or more), to help keep prices down.
Inspired by the color palette of the Pacific coast, Year & Day ceramics come in four glazes: light gray (Fog), white (Moon), pink (Daybreak), and navy (Midnight).
The brand's ceramics are made in Portugal of local clay. All styles are rimless, and have consistently colored, semi-matte finishes.
All ceramics are safe to put in the dishwasher, freezer, microwave, and oven.
Year & Day also offers ceramic serving pieces and accessories, sold as singles—including a 
Low Serving Bowl
($56), a
Serving Platter
($50), and 
Bud Vase
($38).
Year & Day glassware is made using a mix of traditional and modern methods: It's manufactured in a family-owned shop that has been producing glass for more than 200 years, while the rims of each glass are laser-cut for a precise finish.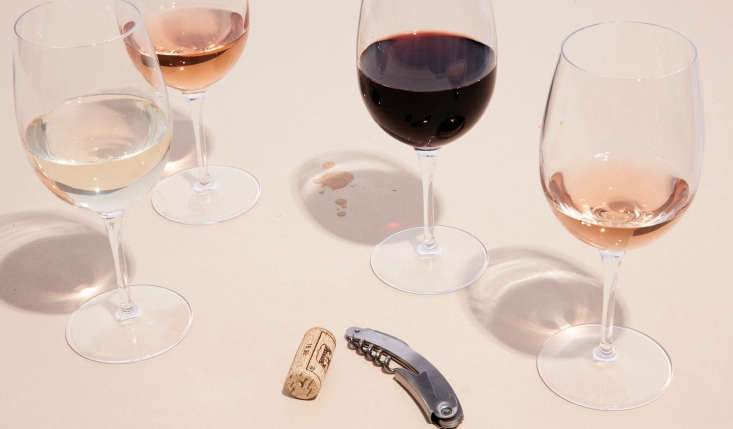 For more tableware, see: