If you've had the luck to dine at The Progress in San Francisco—sister restaurant to one of the hardest reservations in town, State Bird Provisions—we wouldn't judge you for surreptitiously flipping over the dinnerware in search of its maker. If you had, you'd find the hand-stamped insignia of SF ceramicist Mary Mar Keenan. 
A year before it opened, Progress chef (and James Beard Award winner) Stuart Brioza commissioned Keenan to make the restaurant's dinnerware—about 1,000 pieces in all. They collaborated closely on the design, and the resulting Progress Collection is not only used at the restaurant but is also available for purchase.
Visit Keenan's website at MMClay to see the basic pieces, and contact Keenan by phone or email for additional styles and custom work.
Photography courtesy of MMClay.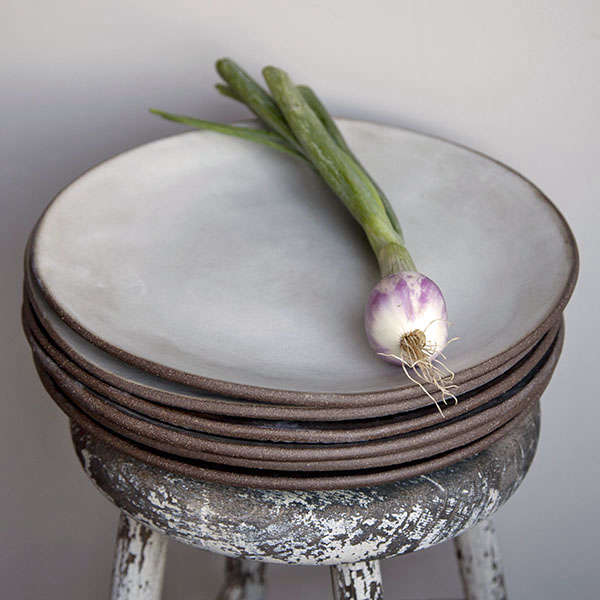 Above: A stack of Progress Collection dinner plates in white chamois.
Brioza initially intended for diners to be able to purchase the ceramics directly from the restaurant and cart them home with their leftover squab—but since running a restaurant is hard enough, all distribution is done through MMClay.
During the design phase, Keenan created roughly 30 glazes for Brioza's review. The pair didn't set out to develop a multicolored collection, but they liked so many of the glazes that they settled on five to be used at random throughout the restaurant. "Servers tell me that when they present the dishes, diners discuss the plates and choose their favorites," says Keenan.
Above: Stacked salad plates offer a glimpse of all five glazes.
The collection is quickly expanding. "Stuart was just in the studio," said Keenan, reporting that they settled on a noodle bowl, pasta bowl, and smaller serving platter to be added to the collection. Keenan also accepts custom orders for any shape to match the rest of the collection.
For the artist, the Progress collaboration is a dream. "The restaurant has become like a live gallery," she says. "I cannot think of a better place to showcase my work, where people are actually using it and I get to be part of their dining experience."
Above: At 6.75 inches in diameter, a dessert bowl doubles as a bread plate.
Bay Area diners are soon to see more of Keenan's work up close: Her ceramics already grace tables at A16, SPQR, Bird Dog, and Goose & Gander, and will soon be at new restaurants Bellota (from the Absinthe Group) and the newest from SF chef Kim Alter.
Above: An 11-inch Dinner Plate in white chamois from the Progress Collection. The plates have a raw clay rim and rounded backside that make them ideal for stacking; $46 each.
Above: A nine-inch Salad Plate in the highly variable moonshadow glaze; $38. Each piece in the Progress Collection is dishwasher safe.
Above: The reverse of each piece features a complementary design of hand-printed textures and a mix of light glazing and sanded brown clay; the salad plate shown here is the only piece in the collection with a footed base.
Above: A 10-inch Serving Bowl in color deerskin gloss flaunts a hand-wrought pattern on the reverse, in a complementary glaze; $75.
For more, browse all San Francisco Restaurants in our Travel guide.
(Visited 98 times, 2 visits today)