When architect Jennifer Hanlin and her husband, designer Chris Cooper, needed to find more space within their 1,300-square-foot Brooklyn apartment to accommodate family life, they looked to a recent trip to Japan—specifically, highly-efficient Japanese Tansu chests. With the idea of "minimal furniture and maximal storage," the couple sold more than half of their furniture and instead built shelving, drawers, and cabinets into the walls and stairs to keep clutter out of sight—and display favorite objects from their travels. Their Japanese-inspired approach "allows us to live in a small space and not have it feel small," as Hanlin says. Join us for a look inside.
Photography by Eduard Hueber, except where noted.
Above: The generous ceiling height in Hanlin and Cooper's living/dining space is thanks to the building's history: "It's one of 35 apartments located in a former Catholic schoolhouse on a residential block in Cobble Hill that was converted to condominiums in the 1980s," Hanlin says. The couple removed the dropped ceiling, exposing concrete beams that they painted Benjamin Moore Decorator's White in Eggshell, along with the walls. Photograph by Bruce Buck.
Above: An Akari Ceiling Lamp, Model L5, by Isamo Noguchi from the Noguchi Museum Store hangs above an antique Danish refectory style table that the couple found at Arenskjold Antiques Art in Hudson, NY. The extra long curtains were custom made by Stitch in the Brooklyn Navy Yard (the fabric is Platon in color 191 from Création Baumann).
Above: Removing the dropped ceiling allowed the couple to add a mezzanine above the living room. The vertical wood slats are inspired by Tokyo's Nezu Museum. "It's is one of the most tranquil places you can find in Tokyo," Hanlin says. Now, the slats act as a wall and barrier while still maintaining openness, plus "their verticality makes the loft appear higher than it is." The stackable Artek E60 stools around the table are topped with cushions of Maharam felt.
Above: Built-in cabinets make use of every part of the kitchen and conceal Japanese teapots, among other kitchenware. The backsplash tiles are "bottle" tiles custom-made by Bantam Tileworks in Connecticut. "We asked Bantam to emphasize a purposeful irregularity in each tile's glazing to speak to the Japanese principle of wabi-sabi," Hanlin says. Photograph by Bruce Buck.
Above: The entryway is serene thanks to brilliant storage tricks: an Eames Hang It All coat rack in walnut via Herman Miller and floor-to-ceiling white built-in closets that hide coats and kids' gear. Vintage finds, placed sparsely, evoke Japan: The straight-back chair is a find from Brooklyn antique store Holler & Squall, and a Serena & Lily Round Jute Rug hints at tatami; $128. The couple stripped and limed the original maple floors and applied a Bona water-based treatment to keep them matte. "You can still see the holes in the original floors where the schoolhouse desks were screwed in," Hanlin says. 


Above: Shelves beneath a wall of large windows display a rotating collection of finds. "We love beautiful things and regularly rotate out specific objects from our cabinets," Hanlin says. Photograph by Bruce Buck.
Above: The master bedroom is painted in Benjamin Moore Hot Spring Stones. Hanlin found the headboard fabric on a trip to Tokyo at Cocca Textiles in the Shibuya neighborhood.
Above: A small, 50-square-foot office makes use of vertical space with painted MDF built-ins, a hyper-organized network of clear plastic bins, and a folding step ladder to access them. Hanlin says that she prefers many transparent, moveable bins over built-in drawers in the office: "Years ago I learned that I will never open up storage that is not visible. This way I always have visual access and can eliminate anything I no longer need and find things that I do," she says.
Above: Removing the dropped ceilings allowed the couple to create a loft in their daughter's bedroom—and build out extra storage underneath. "The stair in Mia's bedroom is an interpretation of the Tansu stairs that we saw in Japan," Hanlin says. "It efficiently incorporates a desk niche as well as drawers for clothing." Photograph by Bruce Buck.

Above: At the bottom of a set of stairs the couple's young daughter's "tangle of necklaces" is organized on the Pack Rack Jewelry Holder by Brooklyn designer Steph Mantis; $25. The cow print was a gift from a friend in Mumbai. 
Above: The stairs lead to a small sleeping loft outfitted with built-in bookshelves. "Undoubtedly there are spirit animals throughout our house," Hanlin says. "Perhaps because we live in the city, there is a desire to surround ourselves with natural things," she says. The rabbit wall hanging placed above the bed is a Hella Jongerius design from Ikea (and is no longer available). The space-saving reading lamp is the Droog Sticky Lamp Fixture; $45.
Above: The couple's son's room is built out with white oak plywood shelving and a bed custom-built by Brooklyn-based MPD Design Build. The fox wall hanging is also a Hella Jongerius Ikea design.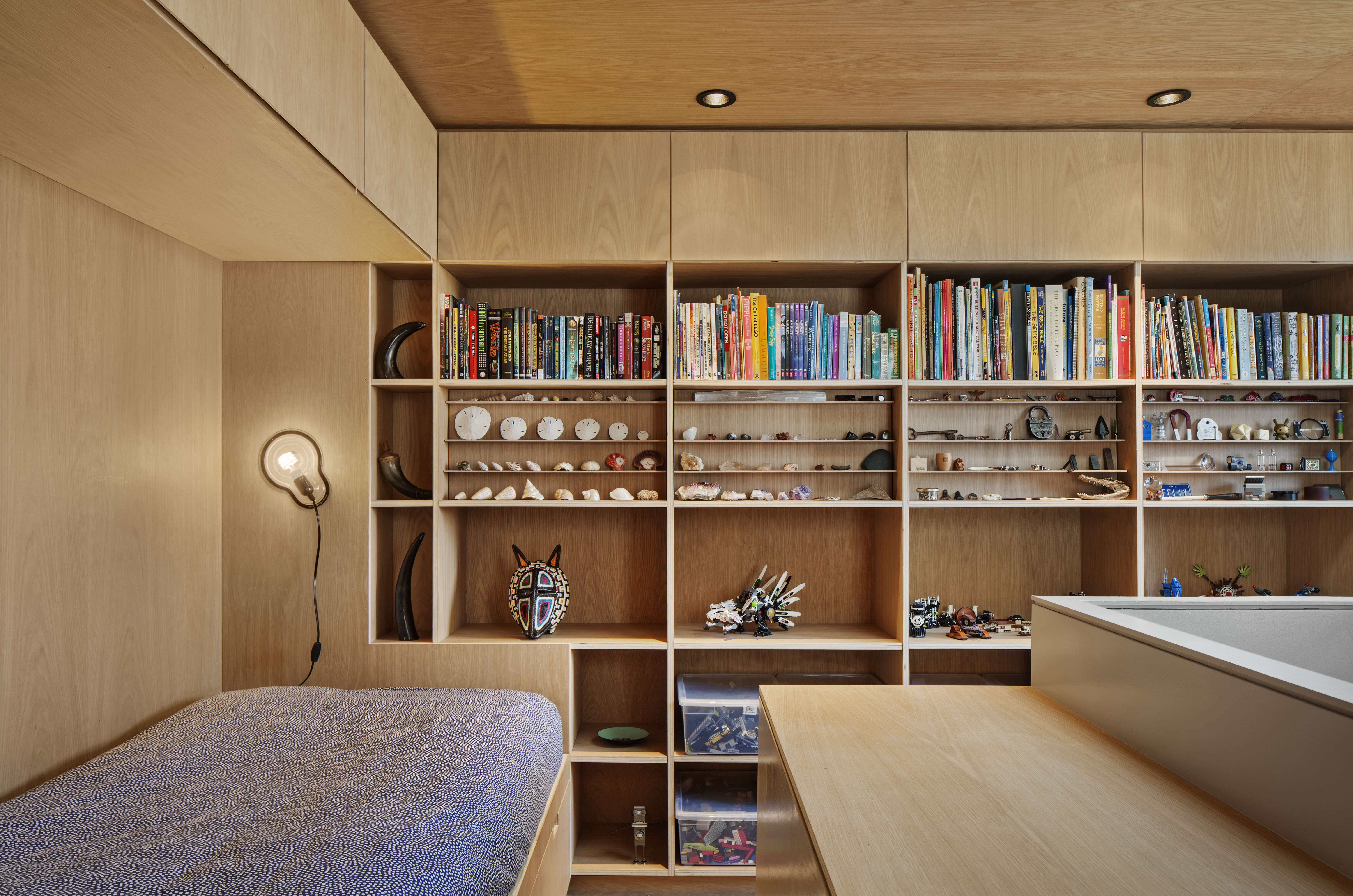 Above: "Felix has the collector's bug," Hanlin says of her son. On display: "Horns, shells, gems, antique keys, and an elaborate assortment of oddities such as WWII medals we find in the flea markets in France." Hidden in the overhead compartments: His many work-in-progress projects and off-duty collections. The key to avoiding clutter? "We purge a lot of it about once every six months," Hanlin says.
For more Japanese-inspired projects with smart shelving, see our posts:
(Visited 434 times, 1 visits today)