There are some hotels that offer respite through the very fact of their existence. Boath House is one such place. Stumbled upon (virtually) in the depths of winter, this grand Palladian hotel in the Highlands is the stuff of daydreams. Let's take a tour:
The grand exterior belies a pared-back interior that has been conceived purely for creative getaways. There are no statement headboards, gilt frames, or wacky country-house florals here. Instead, the rooms have a rough-edged minimalism that befits the setting: a 25-acre estate on Scotland's northern coast near Findhorn Bay.
The man behind the mansion is the artist and entrepreneur Jonny Gent, founder of Cabin Studio. In 2021, Jonny and the chef Florence Knight opened Sessions Arts Club in what was once a judges' dining room on the fourth floor of an 18th-century court house in Clerkenwell. (See: "Sexy and Decadent": The Sessions Arts Club in London.) Faultless reviews followed and—a year later—the Boath House quietly opened.
"It was always the plan to start something in London and then find a place in the Highlands," says Jonny. "A space for people to stay and eat and hopefully find some time to think, make, or shut down for a spell."
Boath House had functioned as a hotel since the 1990s, so no major structural work was necessary. Instead, Jonny was able to focus on creating the right environment for… creating. "I ripped out all the TVs and phones and dressed the rooms simply with old furniture," he says. "I wanted the rooms to feel stripped back so that they captured the studio mentality. Big empty, calm walls, like fresh canvas. Tiny glimpses of things that might trigger ideas. The smell was always important too. I wanted it to smell like a cross between a cave and a church."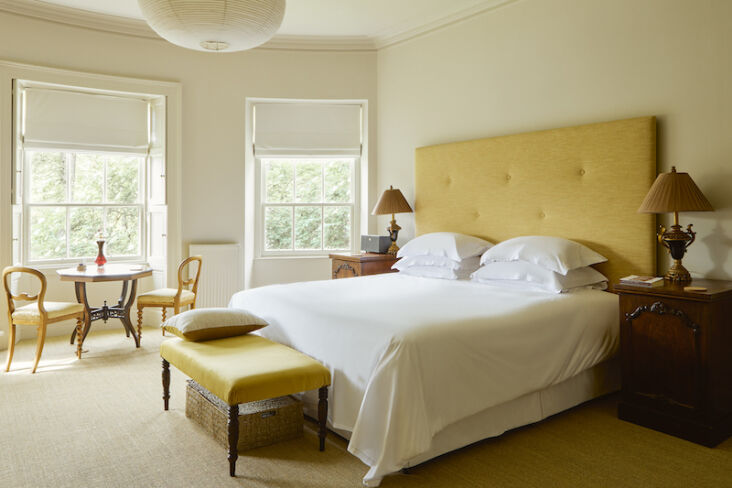 There are ten bedrooms in the main house, a four-bedroom self-catered lodge, a writing studio built in the 1500s, and a drawing studio on the banks of the Boath burn, an icy watercourse that runs through the grounds.
Conceived as a "sanctuary for creatives," the Boath House offers seasonal residencies. "There is no control or plan for the resident," says Jonny, who covers the cost of the resident's travel, accommodation, and food and drink for between three and five days. "Quite the opposite. They arrive and they are free to walk, draw, write, make, hunt, swim, sleep. It's about creating a space that is entirely comfortable.
"Within this quiet world often something comes, whether that is a thought or painting, song or paragraph. I want Boath House to be a sketchbook for all that." The application process couldn't be simpler: "Email [email protected] stating what you do and why you would like to come," explains Jonny. In return, the resident is asked "to leave something behind."
This creative freedom extends to the food offering. In the 400-year-old walled garden is a café that seats 24 (in warmer weather, there's a pergola that seats another 40).
"Here you'll find our chefs, Philip and Kathrine, often cooking dishes from the fire oven," explains Jonny. "Their focus is the garden produce and the immediate surroundings. Pulling from the jars in the larder fermented rhubarb and pickled carrots. Last year's harvest locked in time."
There are plans afoot to open the dining room in the main house on Fridays and Saturdays. "Here, the food will be more complex," says Jonny, but still with a focus on "our forests, rivers, sea, and soil."
Collaborations, markets, performances, residencies, and exhibitions are all happening at Boath House in 2023. There's space for family fun, too, says Jonny: "In the summer, I want the garden to be wild with kids, life, and outdoor movie nights: sausages on sticks, burning fires. Late night ping-pong; the pop of a new bottle.
"We are all very conscious of the pace of the house and how we can enable the slowing of time through little rituals here and there," he adds. "Nothing is rushed. We aren't pestering guests. It is their home, not just for the time they are here, but hopefully it remains theirs after they leave, too."
For more, head to Boath House.
And for more in Scotland, see:
(Visited 490 times, 1 visits today)