Desiree Groenendal of Vosges Paris is one of the bloggers we've been faithfully following. When she's not blogging from her modish black and white Amsterdam pad, she can be found cycling through the streets of the city. We asked Desiree, just back from New York, to share some of her favorite places in Amsterdam.
Remodelista: You travel a lot and as a blogger you must be good at scoping out the best finds?
Vosges Paris: Although I love to be at home I also love to travel. Exploring new cities is what I love most and this year I have been to London and also Scandinavia where I met up with fellow bloggers who took me around town and pointed out the best restaurants and amazing interior shops. There is nothing better then wandering the city with a fellow blogger. I think because we see so many images of amazing interiors and new design, we have the ability to scan a shop very fast in order to know if we like it. I just came back from New York where I was on the Modenus BlogTour. We discovered the design scene there and went to the best workshops in Brooklyn. This is exactly what I would like to share about Amsterdam.
Above: Sukha Amsterdam offers a mix of clothing, accessories and goods for the home (see more on Sukha).
RM: One of your favorite stores?
VP: Sukha is truly one of my top three most beautiful stores in town. Their ability to transform the look of the store into a completely new wonder world every time I visit shows how strong their concept is as well and how talented their styling team is.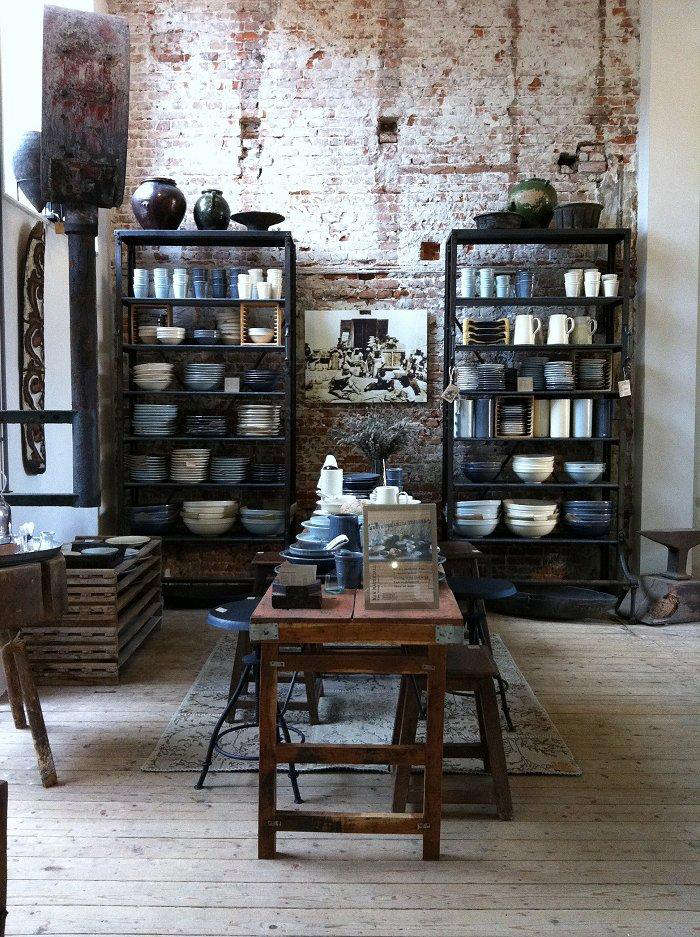 Above: Raw Materials.
RM: Your go-to home interiors store?
VP: Raw Materials: think old floorboards, an unfinished wall, simple furniture such as old Indian market tables, metal open cabinets, huge signs, Italian ceramic in neutral tones, soft linens, and more.
Above: Mazzo, designed by Concrete in Amsterdam.
RM: Where do you like to eat?
VP: Mazzo is a great Italian place for lunch or dinner and drinks with a good environment. Also Mondo Mediterraneo (the uptown one) is a charming little restaurant and lunch spot run by two passionate Italian cooks, with many of the products brought fresh in from Italy a few time a week.
Above: Harvest and Company
RM: Good furniture finds?
VP: I am pretty proud of this project by Jeroen and Denise, two friends of mine. Harvest and Company is an amazing new one-stop-shop specialized in high quality vintage and industrial furniture, interior goods, specialty coffee, fine art, and beautifully crafted items for travel, work and living. At Harvest they've created an atmosphere that inspires, excites and feels comfortable. You will love it.
Above: Lighting on display at Pols Potten.
RM: A good source for design?
VP: Frozen Fountain is great for international classics and contemporary design. Another store is Pols Potten, which is dedicated to artists, designers, and producers. They supervise the design and production and have a collection that is constantly updated.This is how they describe their shop: "We like to call it idiosyncratic. Hopefully, you'll call it inspirational."
Above: The store Sissyboy is located on KNSM island.
RM: Other areas to check out?
VP: Behind central station you will find a total different area where the Amsterdam Harbor starts–head eastward, where you can walk along the quay side of the former harbor. It's a historical area with many renovated warehouses and modern architecture. I love to have a coffee at Sissy Boy, a store with basic clothes, furniture, home decoration, children toys, and French and Moroccan bathroom accessories.
Above:Seating at the Exchange Hotel (read our Post).
RM: Any other must sees?
VP: You really should have a look at the fashion-related concept store Options. The interior features industrial pipes left in sight and the walls are simply painted white or tiled. They have a mix of Scandinavian and some Japanese design. Attached to the shop is restaurant Stock, where they serve breakfast, sandwiches, and soup all day. And finally, there is Hotel Exchange, all part of this amazing concept. Students of the Amsterdam Fashion Institute dressed the rooms like models on the catwalk. The result: a hotel where architecture meets fashion.
Above: Cafe Roest. Photography via Places We Know.
RM: Last tip?
VP: Another place to check out is Cafe Roest. It is a cafe-bar in an historic building at the VOC Kade on the Oostenburgereiland. Roest is different from all other locations as it is minimal and raw. Roest (Dutch for "rusty") is not just a cafe but also a creative place for movies, theater, art, and music. There is a big terrace and a sandy beach with chairs where you can enjoy freedom and creativity in this city oasis.
RM readers, do you have any other suggestions to add to the list? Please let us know in the comments section below.
Need somewhere to stay in Amsterdam? Maison Rika is a favorite of ours. And for more lodging, shopping, and dining ideas, check out our Amsterdam City Guide.
Have a look at our City Guides to find other places to visit.
(Visited 25 times, 1 visits today)