New from French company Andrée Jardin: a line of kitchen essentials for pristinely prepped vegetables. "These daily utensils encourage us to prepare fruits and vegetables in a healthful way," the company says. 
Above: Designed by Ionna Vautrin (an alumna of the Ronan and Erwan Bouroullec office), the beechwood Cutting Board has a sleek profile. The smaller size (30 by 19 by 3.6 centimeters) is €40 ($43.75) and the larger (37 by 23.5 by 3.6 centimeters) size is €50 ($54.69).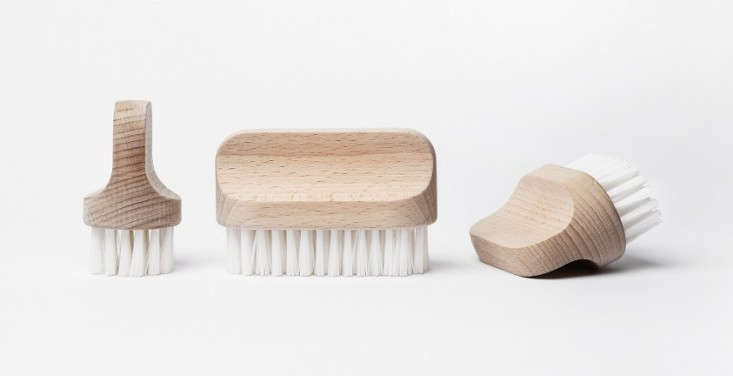 Above:  "Water and a vegetable brush are your best friends," the Andrée Jardin team says. "Instead of peeling, submerge your vegetables in water and scrub with the appropriate brush to remove bacteria, pesticides, and any traces of residual soil."
Above: The Small Soft Brush, €10 ($10.94), is designed for cleaning mushrooms, tomatoes, peaches, apricots, and more.
Above: The Medium Brush, €11 ($12), is for zucchini, eggplant, cucumbers, and apples. 
Above: The Hard Brush, €12 ($13.13), is for potatoes, radishes, carrots, turnips, and other root vegetables. 
Andrée Jardin makes equally nice cleaning accessories–see our Domestic Science and Design-Worthy Dustpans and Brooms posts.

You need to login or register to view and manage your bookmarks.