In Baja, an artist's eye inspires her home, and her home inspires her art.
The artist in question is Patricia Larsen, an infinitely talented and increasingly well known painter whose impassioned, evocative work graces galleries from New York to La Paz. Though abstract, her pieces reveal the places and shapes, poets and creatures that inspire her. A native Canadian, Larsen is proud mother of the owners of one of our favorite restaurants and shops, Le Marché St. George in Vancouver (Larsen herself appears in our story on Le Marché's Thanksgiving Feast).
Larsen has always made the world her home, having nested in picturesque locales like Salt Spring Island, Red Deer, and Hawaii, living and learning in New York City, Toronto, and Vancouver. She's found a home where she means to stay; a place that inspires her work. With the help of friend and architect Julio Cesar Gomez, she designed her home in Pescadero, Mexico, at the very tip of the Baja Peninsula.
Photography by Patricia Larsen.
Above: The home is made of cement block and plaster and took only six months to build.
Above: Larsen built the home as a studio, a place to paint and be inspired.
Above: The home features a two-sided fireplace; although it looks like an indigenous feature, it's rare for the area.
Above: The artist's wintertime bed is sited next to the fireplace.
Above: Larsen often redecorates to change with the seasons. Here, a floral tapestry and Acapulco chair suggest spring.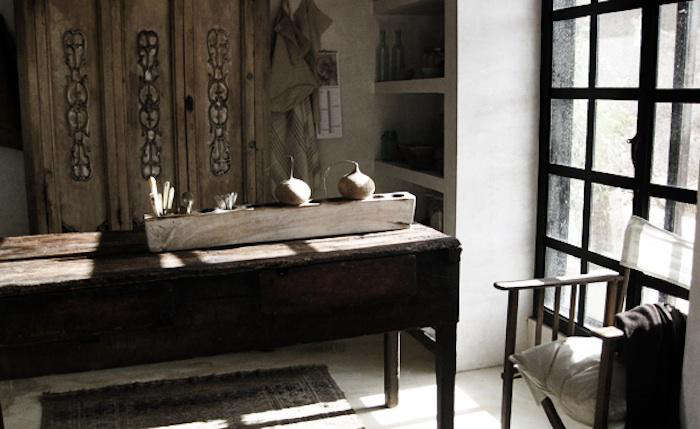 Above: A sunny corner of the studio.
Above: Some walls were given treatments of texture and color with local mud, straw, and dyes.
Above: Note the handcrafted light fixture above, evocative of Larsen's Rock Sculptures. The home runs on solar power, with two solar panels and four batteries.
Above L: A climbing vine serves as an alfresco headboard. Above R: The artist's summertime bed, with the most beautiful mosquito net we've seen.
Above: A Pablo Neruda poem decorates a wall.
Above: A sheltered plein air breezeway serves as central command for Larsen's avid gardening.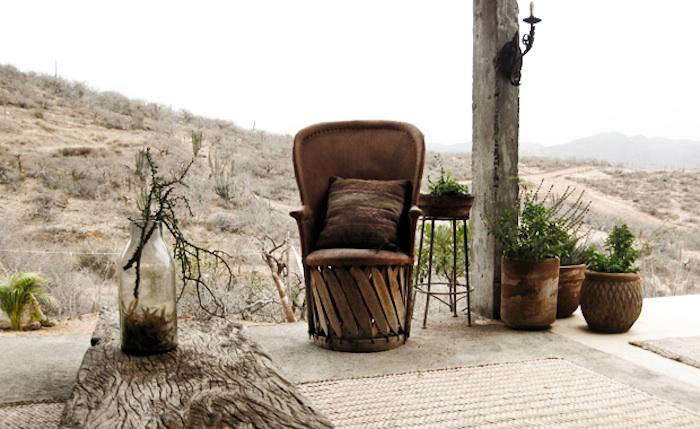 Above: A vintage leather chair offers a view of the surrounding landscape.
Above: Larsen's Painting No. 37, a warm gray work evocative of her chosen home.
Eager for more inspiration? See Artist Residence: Patricia Larsen Used Salvaged Materials to Reinvent Her Mexican Casa.
(Visited 970 times, 5 visits today)