Cathy O'Clery is a journalist (she's a veteran of the World of Interiors and Elle Decoration) and designer who lived in South Africa for 12 years; she is currently based in Ireland but continues to spend a lot of time in South Africa. With a former colleague, Taryn Lamberti, O'Clery recently launched Bead Design Studio, a small company specializing in hand-beaded and hand-dyed cushions with a contemporary African look.
The bespoke cushions are made in Johannesburg; "at the moment, we mostly supply interior designers working on hotels and game lodges, but we are working on our fourth reorder for the Conran Shop," O'Clery says. "The pillows range in price from $140 to $570, depending on size but more importantly on the amount of intricate beadwork and man hours involved in each one and on the rarity of the beads." For more information, go to Bead Design Studio.
Above: The yellow linen Trade Roots pillow features brass and gold beads.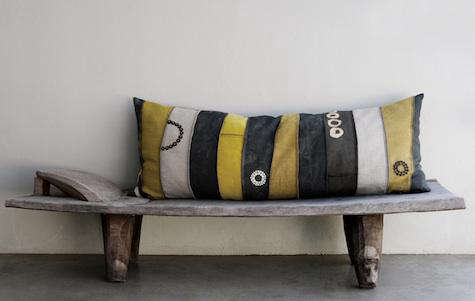 Above: The Shongololo cushion is made from sewn-together fabric remnants with beading and bleach circles.
Above: The gray linen Trade Routes pillow features brass and amber beads.
Above: The cotton ticking Trade Routes pillow features an embroidered bead circle motif.
Above: The African Horizons Moonlight Gray Sky pillow is made with crystal and glass beads on dip-dyed linen.
N.B.: This post is an update; the original story ran on May 2, 2011.
(Visited 17 times, 1 visits today)