A report from the frontlines: newly opened Berkeley restaurant Comal features innovative interior design—plus a next-wave, state-of-the-art sound system.
Owned by John Paluska, the former manager of rock band Phish, Comal is the first restaurant anywhere to feature a newly developed sound system by Berkeley-based acoustic experts Meyer Sound. As Paluska notes, restaurant owners often get complaints from diners that their spaces are either too quiet—lacking vibrancy and buzz—or too loud. The Meyer system is intended to straddle the perfect middle ground.
Meanwhile, the interiors, designed by Remodelista Architect/Designer Directory members Marites Abueg and Keith Morris of Abueg Morris Architects, were inspired by the colors and sensations of Oaxaca (I know this because I happen to work for the firm, and this was my first experience working on a restaurant project). One thing I learned in the design process? An open mind and an adventurous spirit result in the best work. For instance, during their first visit to the empty restaurant-to-be, Abueg and Morris tore at the existing sheetrock to discover what lay beneath. When they found old wood lath covering even older board-formed concrete walls, they knew the bones of the place were asking to be used. From there, a multi-layered design began to take shape.
Says Abueg, "Many people start out with a neutral palette and then stop, producing a space that is modern but not dynamic. Just adding a few more textures and colors—burlap, copper, an amber glow, turquoise blue glass—added layers of dynamism to make this environment sparkle and come to life."
Need more reasons to stop by? A quick hits list: Cocktails from the Bon Vivants. Chef Matt Gandin, formerly of Delfina. A large backyard patio with a fire pit and a walk-up bar. And a music playlist by the former manager of Phish. See you soon.
Photography by Eurydice Galka, except where noted.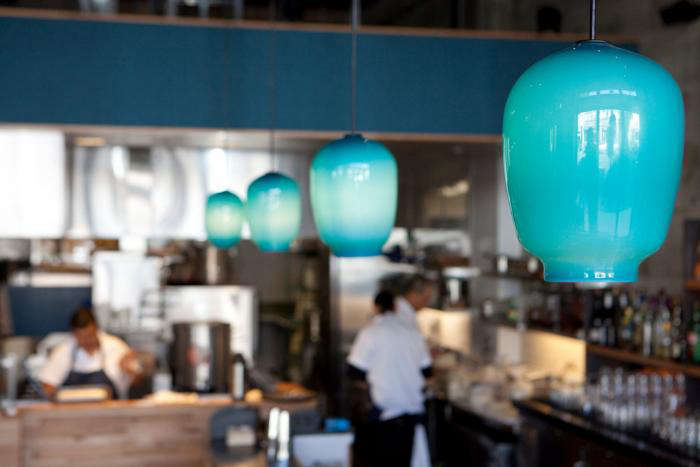 Above: The turquoise hand-blown glass pendants are by Photosynthesis in Berkeley.
Above: Custom iron stools by Ferrous Studios in Richmond, CA, feature designs created with a branding iron by American sculptor John Bisbee. Amber LED strips illuminate the bar shelving; the bar-front panel is utility-grade oak flooring installed backward, to expose more texture; a clever application at a very low cost. Photo by John Paluska.
Above: Repurposed burlap coffee bags provide color, texture, and acoustic absorption.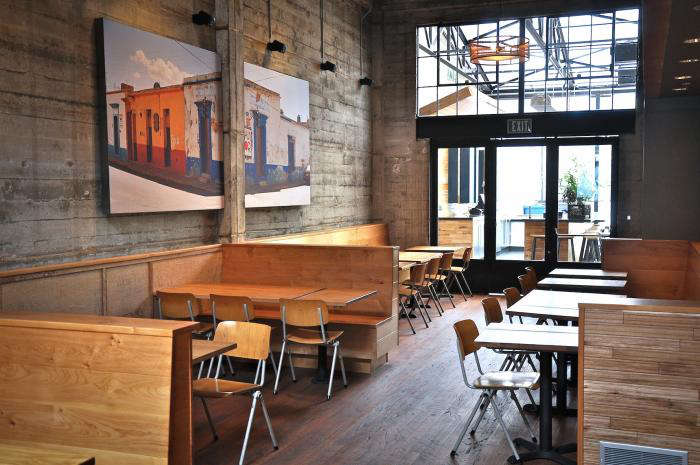 Above: The artwork is a Meyer Sound acoustic panel printed with a photograph of Oaxaca City by Deborah O'Grady. Original Douglas Fir flooring bears the marks of many years of use. Photo by John Paluska.
Above: An amber LED strip warms the space where the banquets meet the original board-formed concrete walls. The copper mesh pendants are by Metro Lighting in Berkeley.
Above: Wood lath taken from the existing ceiling and walls was repurposed as a decorative wall finish. The architects allowed its original colors to show, giving the lath only a wire-brush cleaning and fire treatment prior to install.
Above: Heat lamps will keep outdoor diners warm on a chilly summer's evening. The back patio (opening soon) will feature landscaping by Robert Trachtenberg of Garden Architecture in Berkeley. Vintage chairs are from Amsterdam Modern. The back wall is painted in Benjamin Moore Gentleman's Gray.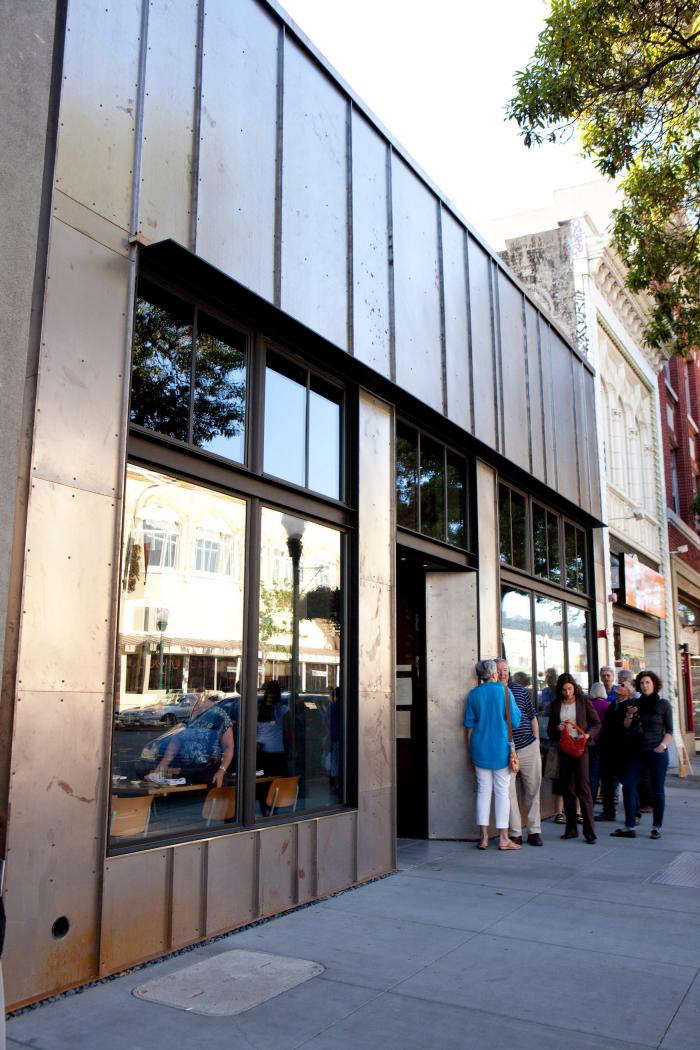 Above: The facade, designed by Trachtenberg Architects, features Cor-Ten panels that will rust over time. Storefront windows by Ferrous Studios.
(Visited 16 times, 1 visits today)