Take note, hoteliers: here are some innovative ideas of how to build a small yet versatile hotel room using salvaged materials, courtesy of a cutting-edge Berlin firm.
Spamroom, a Berlin-based architecture and design studio, recently built Plus One Berlin, a concept hotel room occupying only 30 square meters. The designers created the space with sustainability and craftsmanship in mind: "The design of the Plus One Berlin space brings together functionality, flexibility, and showcases not only the reuse of materials but also how forms and units can be designed for multiple uses, " says Spamroom. For more information, go to Plus One Berlin.
Above: The small kitchen area is made from recycled panel doors, old parquet floor boards, and new plywood sheets.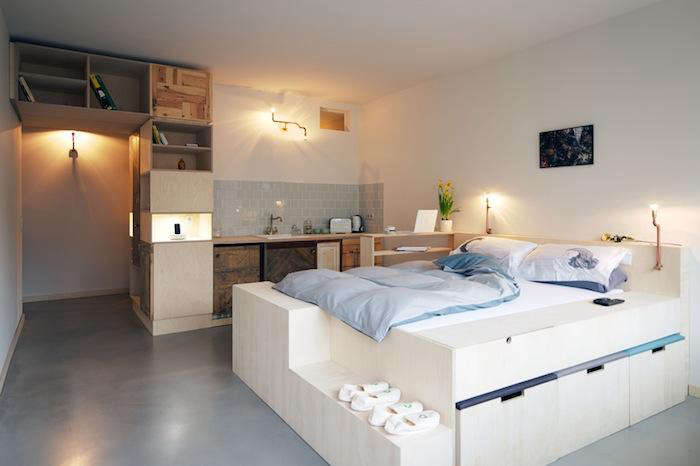 Above: The bed is the centerpiece of the room and serves both as sleeping quarters and a bar area (with stools along the kitchen side). A third bed can be created with the three pull-out modules, which also serve as both seating and storage.
Above: The multi-purposed hallway storage is made from restored door panels and plywood.
Above: A detail of the repurposed cabinets.
Above: A wooden bar serves as both a desk and a dining table.
Above: All lighting is made from restored brass or copper pipes.
Above: A small modern bathroom with all the amenities needed.
You need to login or register to view and manage your bookmarks.