When did the utilitarian wood cutting board become the kitchen accoutrement du jour? Here are 10 that we're currently coveting:
Above: Raw Wood Boards made from mango wood at West Elm. Prices range from $39 to $89, depending on size.
Above: Vintage Wine Barrel Cutting Board; $168 from Terrain.
Above: The egg-shaped La Planche a Decouper is €44 by French designer Caroline Gomez.
Above: Maple Cutting Board with leather strap from Jayson Home; $72.
Above: Color Blocked Balloon Cutting Board handmade in Philadelphia by Lostine, using Pennsylvania-grown sycamore and food-safe milk paint; $248 From Anthropologie (currently on sale for $149.95).
Above: Chopping Blocks made from solid American ash by New Zealand-based Douglas and Bec in three shapes; NZ $65.
Above: JK Adams Driftwood Rectangular Cutting Board is made in Vermont from planks of ash; $69.95 from WIlliams-Sonoma
Above: Ash Wood Cutting Boards made from Minnesota hardwood at Terrain; prices range from $20 to $56.
Above: Bird's Eye Maple Cutting Board from Heath Ceramics made by master woodworker Edward Wohl; $170.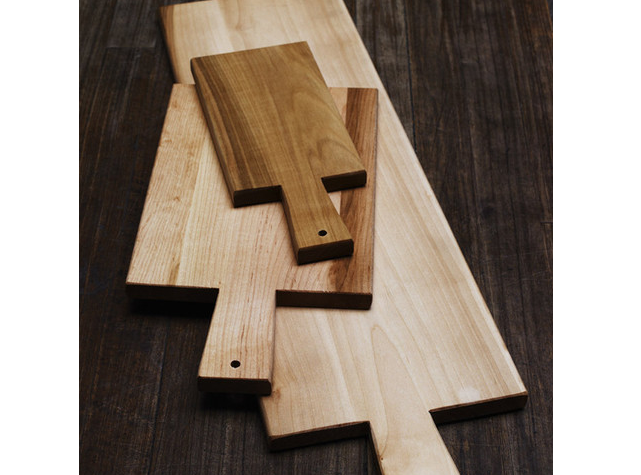 Above: Handmade Blonde Cutting Board crafted by Amish woodworkers; $48 from Canvas.
Check out our post on wooden Rolling Pins, the latest kitchen contender to the cutting board.
(Visited 111 times, 1 visits today)