Over the course of the past five years, most of my male friends have gone from wearing "whatever" to wearing selvedge raw denim and shirts made of organic cotton and carrying reclaimed military drab backpacks. The equivalent in interior design? The California Dude Sofa. Upholstered in natural (sometimes vintage) canvas or leather and often seen with a welded steel frame, here are our favorites of the new sofa style.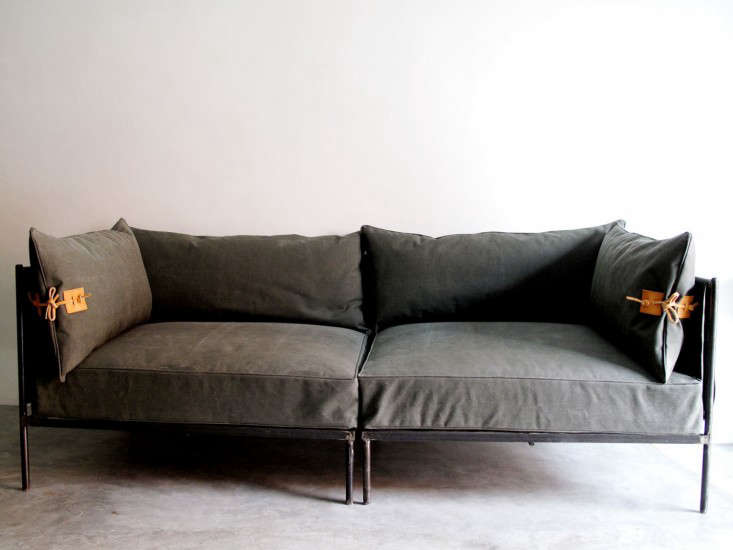 Above: The Casamidy Altamura Sofa has a metal frame and upholstery fixed with leather ties. Contact Casamidy for pricing and more information.
Above: LA-based Michael Felix's Standard Sofa is a leather sofa on a solid walnut frame; $4,500. For more, see our post Born to the Trade: LA Designer Michael Felix's Handmade Furniture.
Above: The Inheritance Sofa from LA-based Stephen Kenn has a welded steel frame, custom-made leather and webbing belts, and is available in a range of fabric options (including natural canvas, leather, and reclaimed military canvas); contact the company directly for pricing. For more, see our post The West Coast Sofa by Way of Japan.
Above: The Safia Sofa from Environment in Los Angeles is upholstered in vintage military canvas; contact Environment directly for pricing.
Above: From Japanese furniture company Hirashima, the Caramella Sofa/Dining Table is a two-seater, fabric-upholstered sofa on one side, and a small dining table on the other. For more, see our post Small-Space Solution: Live/Work Furniture from Hirashima in Japan.
Above: The Feather and Down Sofa from Seattle-based Brackish Design has a steel frame, feather and down cushions, and a marine grade fabric cover; $3,475 from Brackish Design.
Above: From Japanese company Truck, the FK Sofa 3-Seater (the same size a US loveseat) and FK Sofa 4.5-Seater in a cotton corduroy fabric are available direct through Truck.
Above: The Goncourt Sofa from West Elm is 148 inches long and has a linen slipcover; $3,999.
Above: The Premium Leather Linde Sofa with cast iron legs and leather upholstery is $4,498 at Anthropologie.
Still shopping for sofas? See our posts:
(Visited 341 times, 3 visits today)