When I was 16, my very first job involved placing tiny stems of flowers in bud vases and I took it very seriously, carefully deciding which direction each steam was going to lean. It seems almost too easy, but to this day I'm convinced that there is a real art in the placement of a single stem. Here are ten ceramic and glass bud vases, each under the $30 mark, for displaying one or two stems of your liking.
Ceramic
Above: Made in Portugal, the Small Table Vase measures 2 inches wide; €12.50 each from Otchipotchi. Read more about ceramicist Paula Valentim in our post: Otchipotchi Porcelain Vases from Portugal.

Above: San Francisco-based Heath Ceramics' Bud Vase measures 3 inches in diameter and is available in a rotation of glazes throughout the year; $22 each.
Above: The Small Porcelain Bud Vase, made by hand from pure Japanese porcelain in a Tokyo studio, measures 2 by 2 inches for $12 from Hajime Design on Etsy.
Above: Also from Otchipotchi in Portugal, the Medium Table Vases are €12.80 each.
Glass
Above: The Tall Bud Vase measures about 2.5 inches wide by 8 inches high for $3.95 and the Mini Bud Vase is 3.5 inches wide by 5 inches high for $2.95; both from Crate & Barrel.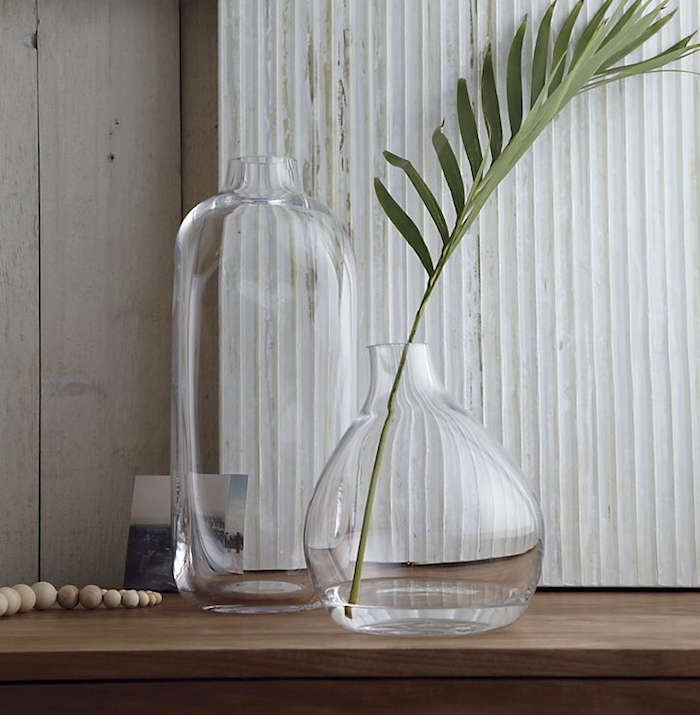 Above: The asymmetrical Skip Vase (R) is hand blown in Poland with a scissor-cut glass opening; currently on sale for $12.95 from Crate & Barrel.
Above: CB2's Joyce Bud Vase is dishwasher safe and measures 4 by 4 inches (good news for a vase with a small opening); $2.95 each.
Above: From Sugahara Glassworks, one of Japan's oldest glassworks, the Pebble Vases are hand blown and available in four different shapes and colors for $24 each from Canoe.
Above: Made in Spain, the Recycled Ball Vase is made from beach glass; it has a slight greenish tint and measures 7 inches tall and 6 inches wide; $25 from Brookfarm General Store.
Above: The Small Vase from West Elm's My Favorite Flower Vase Collection features two-tone glass in clear and white for $24 each.
N.B.: Looking for more garden-related accessories? See all 45 10 Easy Pieces posts in our archive.
You need to login or register to view and manage your bookmarks.