We think British textile designer Gemma Shepherd has invented the perfect camping accessory: a three-in-one merino wool wrap/throw/blanket. Not only that, she opened what, for us, is probably the perfect campsite in which to wear it: Spot House Farm.
"Normally for me camping is just hell on earth," she admits. "The thought of just a thin sheet of fabric between you and a complete stranger… I just find that so grim!" With that in mind, last summer, she set up just two bell tents in a secluded meadow on her family farm in the Low Weald of Kent: a wild, low-impact, quietly luxurious site for groups of friends that opens in May and disappears almost without a trace in September.
Let's take a look around.
The tents are positioned in a meadow that forms part of Gemma's 50-acre family farm. The meadow is surrounded by Orlestone Forest Nature Reserve, a protected and ancient woodland that is home to nightingales, deer, and rare species of moths and butterflies. "The meadow itself is this magical enclave," explains Gemma. "There is an old hunt jump in one corner of the field. Climb over that and you're straight out into the forest. If you walk far enough, you'll emerge at the pub in the village of Warehorne, which is perfect." (In our book, all good campsites require a walk to a village pub and an easy meal.)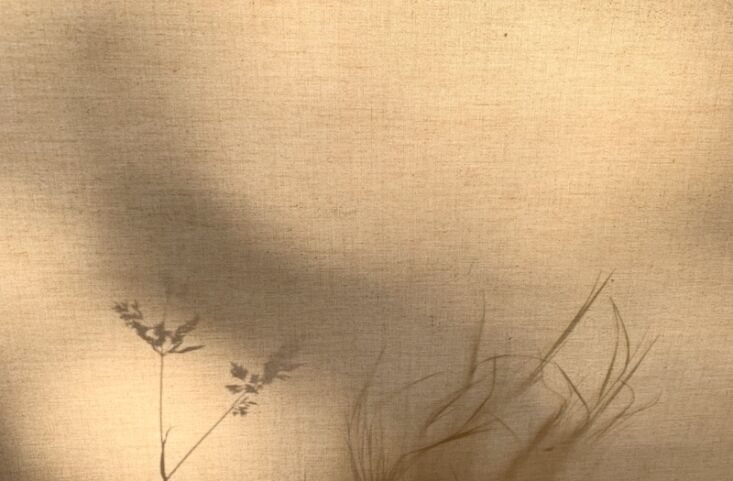 Growing up, Gemma camped in the same meadow, and it was during lockdown that she rediscovered its magic. "I really felt for anyone living in a city at that time," she says. "I suddenly appreciated just how lucky we were to have this space,  and I wanted other people to experience it because it is just so gorgeous, so peaceful."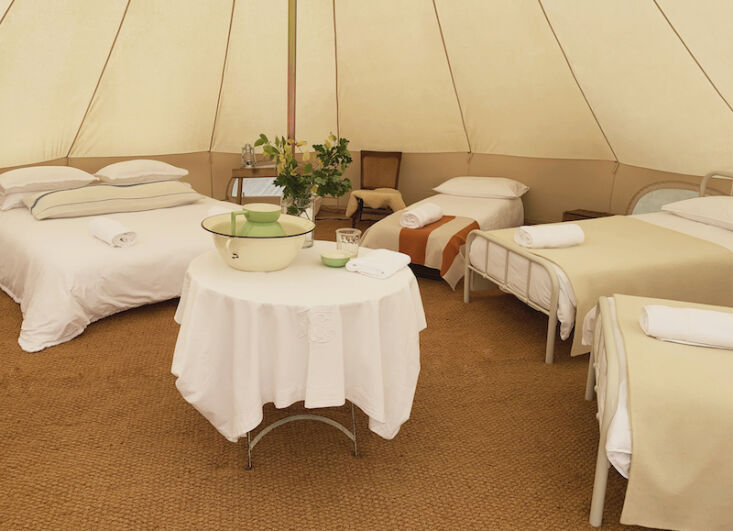 Gemma has set up two bell tents—one large and one little—and furnished them with "proper beds" (another prerequisite for happy camping). In the larger tent there is a super king, two single beds, and space for a third generous camp bed. There's even an "old-school washstand" at the foot of the bed so you won't find yourself brushing your teeth in a bush at the end of the night. There's also a log burner and armchairs in each (tick: this is the UK).
Outside, three off-grid corrugated tin structures are spaced out around the edge of the field: an outdoor field kitchen, a long-drop toilet, and a heated, open-air shower in the shade of an ancient oak. These were designed by Gemma and made by her husband, Joel, a master carpenter.
Ten minutes from the campsite is Gemma's studio where, for two decades, she has created luxurious, statement wearable accessories and homewares in graphically bold compositions using only superfine lambswool. Campers can arrange to visit the studio whilst staying at the farm.
At the end of the season, the tents are packed away and the cattle are reintroduced to the meadow. "The site is really low impact," explains Gemma. "That's was really important to us. In September, the campsite has gone and the animals are out there again. It goes back to being fully wild."
N.B.: Stays are available from £350 per night for both tents. For much more, head to Spot House Farm.
(Visited 592 times, 9 visits today)