Alice Waters, with her devotion to local and sustainable agriculture, started the Bay Area's food revolution. We thought we'd apply the same principles to home design, and spec a bathroom using products sourced from a 100-mile radius of San Francisco, using a mix of vintage pieces and locally manufactured fixtures.
Below: San Francisco architect Bruce Tomb's sand-cast white bronze sink for Infinite Fitting can be ordered with either an X or an O shaped drain, which is milled to order. It can be wall-mounted or perched on a sink console.
Below: Sonoma Forge is located in Petaluma, 40 miles north of San Francisco, and produces hand-forged faucets, exposed shower systems, and bath accessories. The WingNut Faucet is available in rustic nickel or rustic copper.
Below: Sonoma Forge's Exposed Showers.
Below: Sonoma Forge's WaterBridge toilet paper holder.
Below: Sonoma Forge's CiXX towel bar.
Below: Sausalito is 10 miles north of San Francisco and is home to Heath Ceramics, a company that needs no introduction. Founded in 1948 by Edith Heath, the company continues to handcraft each piece in their Sausalito factory. Architects such as Annabelle Selldorf and Tod Williams and Billie Tsien have used Heath vitreous tile in various projects. If you live in the Bay Area, check out the Overstock Tile room, where overage and slightly irregular tile is available at a 75-percent discount.
Below: Berkeley (10 miles east of San Francisco) is home to Ohmega Salvage, which deals in high-quality vintage plumbing fixtures. This circa 1912 vintage American Standard pedestal bathtub is $1,200; classic claw-foot tubs start as low as $250.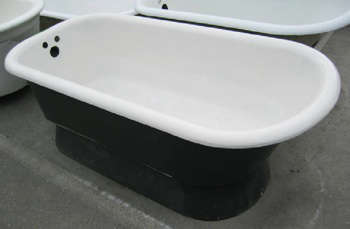 Below: Seek out a salvaged tub filler from the Sink Factory in Berkeley (10 miles east of San Francisco). The store's plumbing scholar, Ragnar, can assist you with finding the proper configuration (his specialty is hacking Chicago Faucets to fit any sink or tub).
Below: This Old Toilet, located in Los Altos (40 miles south of San Francisco), is the world's largest shipper of salvaged toilet tank lids and tanks. Proprietor Gary Tjeder has had a long career in the "sanitary wares" industry (be sure to read his bio).
You need to login or register to view and manage your bookmarks.