It's a truism of interior design that every room should have a touch of red. Perhaps I'm coming around; lately I've been noticing flashes of crimson that I can imagine using.
Above: A cherry-colored table adds cheer to this mis-en-scene at Ochre.
Above: A door painted red in a kitchen by Platt Dana Architects:
Above: Stair treads painted red in a room from Lili Diallo's portfolio.
Above: A red Semi lamp by architects Claus Bonderup and Torsten Thorup, designed in 1967 for Fog & Morup in Denmark, adds a dash of color.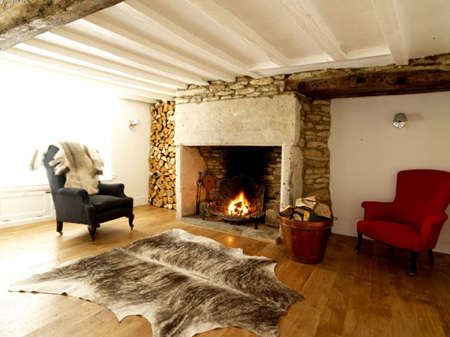 Above: One red chair is all it takes in this living room in the English countryside.
Above: We love the Jielde reading lamp in this room from Living Etc.
Above: In Christian Liagre's own summer house, he painted the entryway red.
Above: Architect Will Meyer painted a pocket door red; a flash of red that can come and go; via Domino.
Above: A white New York City kitchen by Messana O'Rorke Architects punctuated with a Verner Panton FlowerPot lamp.
Above: A red and white bath from Living Etc.
Above: Another great task lamp in a room styled by Rosie Brown, via Living Etc.
Above: A Tolix Red Enamel Galvanized Metal Chair; $250 from Conran.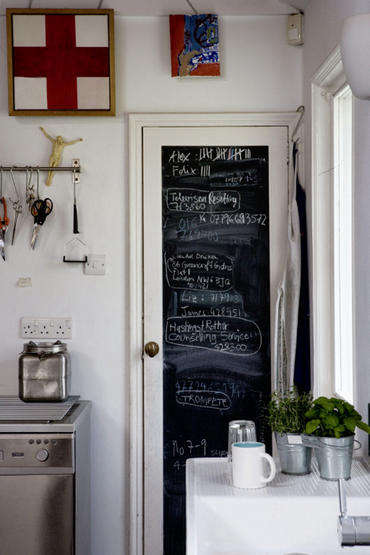 Above: Dashes of red in a rustic kitchen.
Above: The red light below in a room by UK designer Suzy Hoodless adds a dash of exuberance.
Above: A red painting in a villa in France, via Style Files.
Above: A lipstick red Aga stove makes a dramatic statement.
(Visited 10 times, 1 visits today)