It all started with a dog bed. Louisa Tratalos had just brought home a rescue terrier called Patch and was looking to source some striped fabric for his new sleeping quarters. Her father and stepmother run an established Cheshire-based manufacturing company, Arley House, supplying fabric and soft furnishings to the hospitality sector. Louisa told them the stripe width and colors she wanted, and they created the fabric for her.
In situ, the regal bed got almost as much attention as Patch. As an interiors photographer, Louisa was already immersed in the world of creative design, so she quickly identified a niche for bespoke striped fabric. Hence, Colours of Arley was born.
Photography courtesy of Colours of Arley.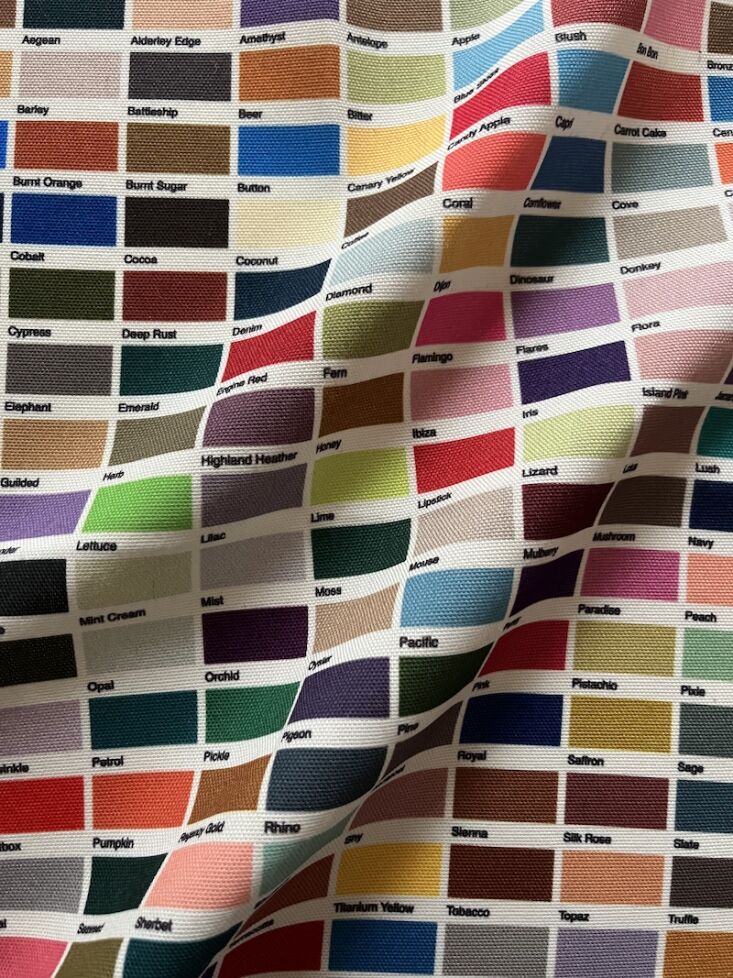 The premise is simple: Customers are able to choose one of three stripe sizes (skinny, midi, or grand) in two of 180 colors—meaning there are over 15,000 color combinations to choose from. Four fabrics are available: recycled linen-look for drapery; recycled weave for upholstery, velvet, and a natural cotton/linen blend. Once you've chosen your fabric, stripe width, and colors, your bespoke stripe samples (£5 each) will be delivered to your door. The finished design is available for £75 per meter. (Everything at the factory—even the samples—are printed to order, meaning there is no waste.)
"Stripes are such simple design," says Louisa. "But what interests me is the limitless possibilities within that. So we might have someone order a neutral, skinny stripe in Mouse and Latte for their headboard. And then, the next minute, we'll have someone order Periwinkle and Sunrise in wide stripes for a curtain. It's the same design – but it creates such a different effect."
For customers confounded by the choice, Louisa's suggests choosing "a sentimental stripe." She explains: "I encourage people to create a stripe that is based on something they love. It could be a jug from your grandma or your favorite flower—something that has a bit more meaning than just 'it will look pretty against my green wall.'" That way, Louisa reasons, you'll be more likely to take it with you to your next home. (One customer recently ordered a cushion in a peach and pink stripe that replicated the colors in her young daughter's favorite cardigan. The cardigan had grown too small for the girl, so the cushion became a way for the mother to remember her in it.)
Initially, Louisa wanted to target young creatives: "people like myself who want something bespoke for their home but might not have thousands of pounds to spend on it." To her delight, the service has attracted exactly the right kind of customer as well as an increasing number of respected interior designers. "I've been blown away by the amount of trade requests I've had!" says Louisa, citing Studio Ashby and Beata Heuman as two recent signings.
As well as the bespoke fabric, Colours of Arley offers customers the opportunity to create their own bespoke striped cushions, blinds, and curtains. Again, samples are sent out before the finished bespoke piece is delivered fully formed. Two new product ventures are also in the making: a succinct "vintage drop" of 10 pieces and a Colours of Arley chair, which will be available in three shapes.
"With the vintage pieces, the idea is that we're removing the headache of sourcing, shipping, finding an upholsterer, ordering your fabric, getting that delivered to the upholsterer … Instead, we're finding each piece—which might be a lamp, a chair, a stool—and encouraging you to use your imagination. The price will include a color chart and three samples and it'll be delivered to you as a ready-made product. How simple is that?"
For more, head to Colours of Arley.
(Visited 1,103 times, 4 visits today)