Designer and furniture dealer Michael DePerno enjoys a loyal following on both coasts (he opened his first shop, Hope & Wilder, in Soho before moving to LA, where he opened REN). Several years ago, he left the urban world and moved to Sonoma, where he has been quietly designing interior and exterior spaces ever since. Recently, he began offering his carefully edited collection of vintage and new furniture and hand-loomed rugs and textiles via Sienna Antiques in the town of Petaluma.
DePerno's pieces include one-of-a-kind all wool flatweave kilims and jajims (created on very narrow looms between the 1920s to 1940s by nomadic Persian tribes), traditional George Smith sofas, Asian handcrafted baskets, mid-century furniture, and a Chinese lacquered screen. For more information, contact Michael DePerno.
N.B.: DePerno's own Sonoma home is in this month's issue of Elle Decor.
Above: Oak cabinet from England and 1950s pewter sconces from Germany. The hand-knotted, vegetable-dyed carpets are from Turkey.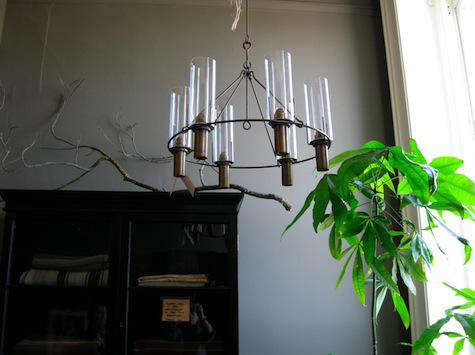 Above: Vintage brass candelabra; $600.
Above: Peruvian textiles.
Above: Antique Turkish textile; $1,300.
Above: An antique cabinet displays DePerno's collection of rugs.