Design decisions are not necessarily informed by a first love, but Giulietta Carrelli of Trouble Coffee & Coconut Club is not your typical coffee shop owner.
Her outposts—she has three to date—each mark a different period of her life. She opened the first Trouble Coffee in 2007 in the foggy reaches of San Francisco's Outer Sunset. The shop was created out of a need for survival during what she describes as an "insane, scary time in my life." Relying mostly on driftwood scavenged from nearby Ocean Beach, Giulietta created her small coffee shop with the help of friends, begging and borrowing many of the materials for the interior, right down to the nails. She opened a second Trouble Coffee in the city's Bayview neighborhood, a sliver of a space beside her friend's metalworking shop. Last year she followed with her third, in the upcoming industrial neighborhood of West Oakland (she admits to having an affinity for marginal neighborhoods.)
The West Oakland Trouble is located in a former warehouse, and the moment Giulietta saw it, she knew it was her next location (although it took a while to persuade the city). She decided to paint the interior all white, "dedicated to my first kiss."  She explains, "I fell in love with my boyfriend when I was 12 years old—the white is the purity of that first love. We rode bikes to school and had ice cream afterward. Everything was pure." To that end, the whole space is completely white, top to bottom, with the exception of a single wall punctuated with objects that are representative of that period of her life: a photograph of Nancy and Ronald Reagan, her first punk rock T-shirt, elements of a drum set, a wedding dress, and more.
"I look a little crazy," Giulietta says," but I'm a very calm person. I'm someone who swims in the ocean and finds peace." Here in West Oakland the spartan white space channels her inner calm and current state of being.
Photography by Cory Maryott; follow him on Instagram at @coryiander.
Above: In lieu of filling the space with tables, Giullietta opted for a few stools at the counter and one long built-in wraparound bench for seating.
Above: The oversize, powder-coated, white metal table was made with the help of her friend Dan Greenberg of Conceptual Metalworks. As Giulietta says, "I wanted a table so big you almost can't put anything on it."
Above: She worked with her painter friend Chris Hower to pick out the perfect white. He kept showing her different whites but none were white enough until they finally landed on Benjamin Moore's Super White.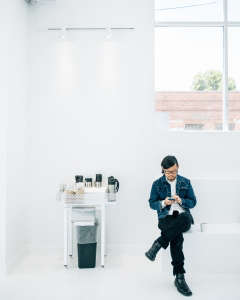 Above: Giullietta intentionally offers no Wi-Fi, and the space is a no-electronics zone (although she notes it sometimes takes people a while to get it). It's her approach to getting people to connect with each other.
Above: An Etch a Sketch sits alongside bags of coffee beans.
Above: On the menu: Giulietta's trademark cinnamon toast (she was the one who started the Bay Area toast craze), coconuts, and grapefruit juice, the foods that offered her sustenance during her troubled years.
Above: Mike's all-white television room in Willy Wonka was one of the inspirations for the space,  Giulietta aspired to create that same sense of beautiful uncomfortableness.
Above: The wall behind the counter features objects representing Giulietta's early life. Shown here is a wedding dress and a step stool.
Above: The entry to Trouble Coffee.

You need to login or register to view and manage your bookmarks.