Care to dine next to a tiger skeleton? Restaurant Museet is a new Swedish bistro that puts more than food on display. Located off the buzzing Birger Jarlsgatan in Stockholm, the restaurant is the work of interior designer Richard Lindvall, who set out to create a space that would work at all hours–a modern bistro by day and a bar late into the night. To make for an ever-changing backdrop, Lindvall installed several glass display cases–hence the name Museet, which means museum–and filled them with exotic and curious objects. 
Photographs by Richard Lindvall.
Above: The restaurant serves a mix of French and Swedish cuisine.  
Above: Built-in banquettes of cognac-colored leather offer casual seating. The tables are white Carrara marble with iron bases.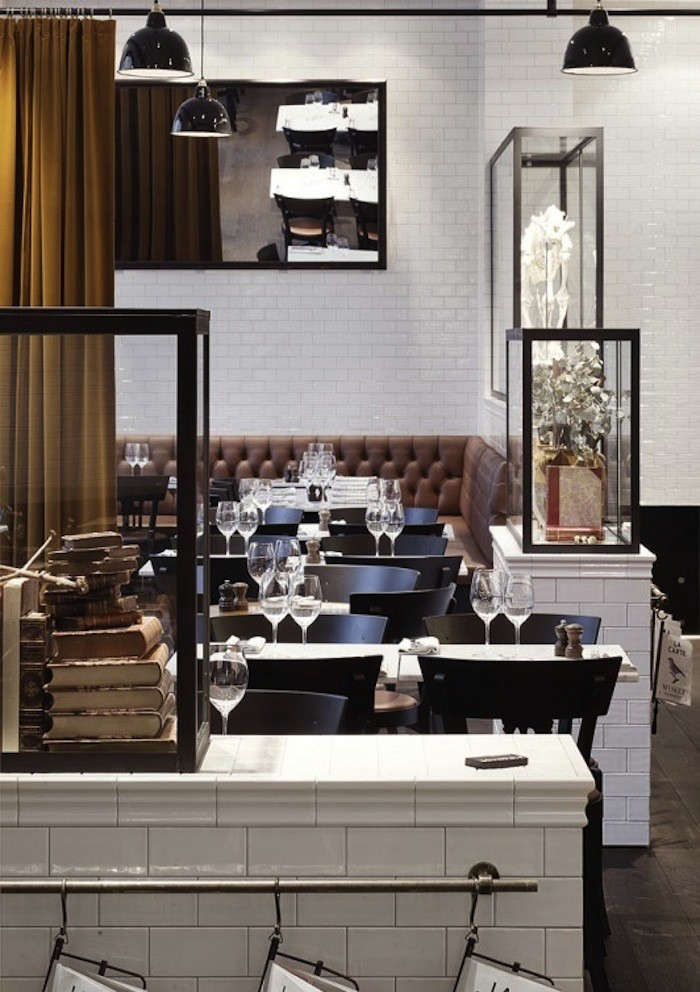 Above: Wood-framed glass cases display a changing array of exotica. 
Above: One of the cases contains the skeleton of a Siberian tiger, born at the Kolmí¥rdens djurpark, a wildlife sanctuary south of Stockholm. An endangered species–only 300 to 500 Siberian tigers are currently alive–this one died of natural causes and is there to raise awareness and donations for the World Wildlife Fund.
Above: The pendant lamps came from an old factory and were found at an antiques store in Stockholm. They were gray and Lindvall turned them black by spray painting them.   
Above: To keep things interesting, Lindvall frequently changes Museet's vignettes. 
Above: Menus hang from a brass pipe that came from an elevator door. The hooks were salvaged from a Viennese hotel and likely held newspapers.
Above: Some of the menus are presented on sheets of shiny laser-cut brass.
Above: Hanging menus are ready to be grabbed by on-the-go waiters. 
Above: White subway tiles and a trio of socket lights lend the space an industrial look.
Above: Dark wood floors work well with the moody displays.
Here's where to find Museet in Stockholm:
Planning a trip to Stockholm? Visit our Stockholm City Guide for more places to eat, shop, stay in and around the city.
(Visited 358 times, 1 visits today)