Have you lounged in the lobby at the Ace Hotel in New York, or dined at the Standard in the Meatpacking District, or thrilled to the decor at the Breslin? Then you should get your hands on a copy of "Things We Made" by husband-and-wife team Robin Standefer and Stephen Alesch, the couple behind design firm Roman & Williams.
"I hate design," says Standefer. "It's so pretentious, awful and academic. We're anti-design. We like when something breaks off or is half done. It's not that something has to feel real. It has to be real. Life is not always going to be perfect. A space should reflect that."
Above: Robin Standefer pages through Things We Made ($47.25 from Amazon); photo by Josh Rubin for Cool Hunting. How does the couple live at home (isn't that what we really want to know?). Browse the images below:
Above: A room within a room: the couple's freestanding library in their Noho loft.
Above: A leather sofa by Brazilian designer Sergio Rodrigues is draped in fur.
Above: A soapstone sink and traditional cabinetry.
Above: A collection of glassware.
Above: The dining room features a collection of Ted Muehling candlesticks.
Above: A kitchen still life with grapes and vintage wood cutting boards.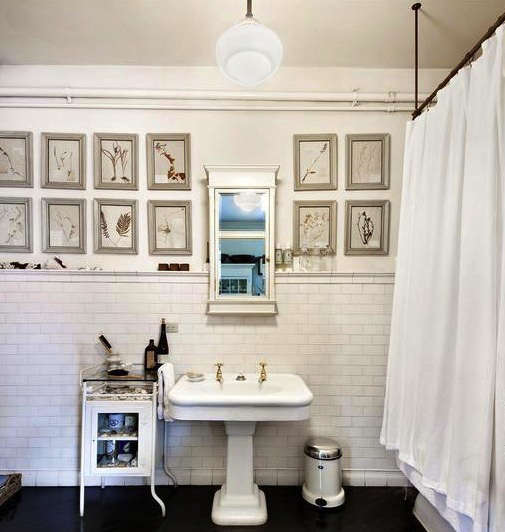 Above: The bath features signature Roman & Williams touches like subway tile, a vintage pedestal sink, a canvas shower curtain, and a retro mirrored medicine cabinet.
Above: The couple's moody bedroom, painted midnight blue.
Above: The entrance to the loft.
(Visited 92 times, 1 visits today)