The new series of city screen prints by Dublin design studio Me & Him & You head straight to the heart of each locale: a trio of landmarks and an iconic "3-4 gulps" cocktail (or, in the case of Hong Kong, a one-bite dim sum).
Founded by Ronan Dillon and Peter O'Gara, Me & Him & You designs spaces, products, books, and now posters. They say that their city prints were inspired by the long history of people from Ireland striking out for foreign destinations–and by the fact that so many of their own friends and family have left to find work elsewhere. 'We are lucky enough to have been able to visit, sample their signature drinks, and be inspired by their new homes." 
 To learn more and place an order, go to Me & Him & You.
Above: The designers toast their own city in the Dublin print, which they say they made special by adding a drop of Guinness to the ink and limiting the print run to 400. It's printed, they note, on Rothmill Cream, the same paper used in the original Guinness posters; €110 from Me & Him & You. 
Above: Paris; €60. Each print in the series of six measures approximately 19 inches by 26 inches.
Above: New York; €60. The prints are made using solvent-free, water-based ink and traditional screen-printing techniques. 
Above: London; €60. Each print is blind embossed with the Me & Him & You company seal and accompanied by information about the project.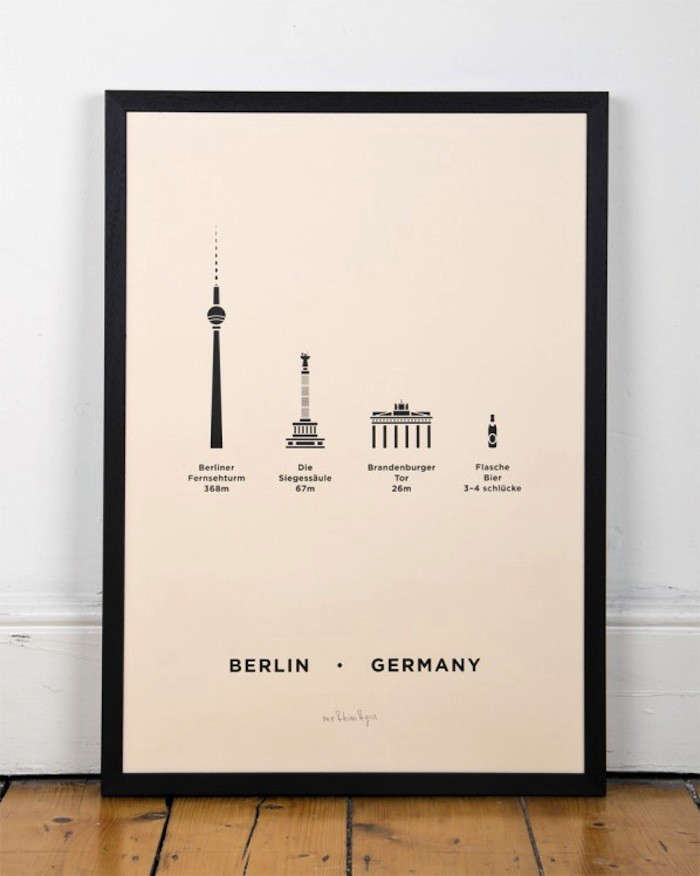 Above: Berlin; €60. 
Above: Hong Kong; €60. 
Looking for easy art-hanging solutions? Here are Five Quick Fixes: New Ways to Hang Art.
You need to login or register to view and manage your bookmarks.