One thing we've noticed: Europeans are not compelled to install historically contextual kitchens when they move into old houses. Case in point: a pair of streamlined Bulthaup kitchens (a catering kitchen and a family kitchen), slotted into a Danish villa built in the Middle Ages.
Above: The stately villa is located on the island of Funen, in the middle of a park.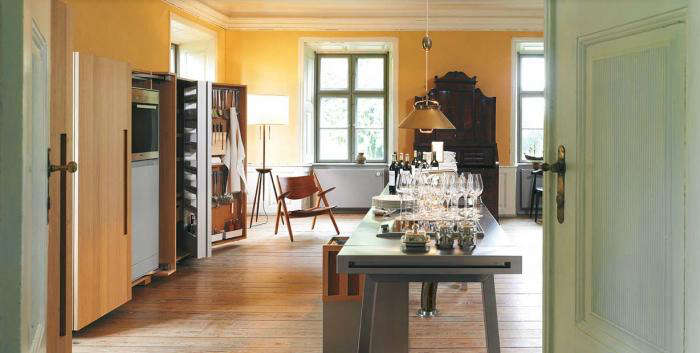 Above: The catering kitchen features a modular Bulthaup b2 Kitchen System with free-standing walnut cabinetry capacious enough to store a kitchen's worth of pots, pans, and pantry items.
Above: A view of the kitchen with the cabinets closed.
Above: The catering kitchen includes two stainless steel workbenches positioned to form a single long workspace.
Above: The family kitchen is a modular b2 Kitchen System, featuring a freestanding island with solid oak cabinetry.
Above: A credenza appears to be floating and provides additional storage.
Above: A double door opens to the garden.
Above: The island features an integrated stainless sink.
Above: Classic Wegner Wishbone chairs in the dining area.
Brown our Gallery of modern-meets-rustic farmhouse kitchens.
You need to login or register to view and manage your bookmarks.