Pink doesn't have to be precious, as these rooms demonstrate.
Above: A detail from a New York loft, via Apartment Therapy.
Above: Arne Jacobsen's Ant Chairs in magenta ($371 at Hive Modern).
Above: Pink corduroy Divine Recline sofa from Ochre.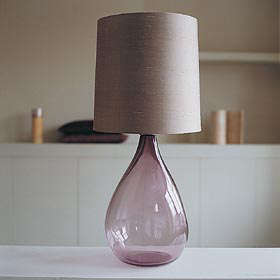 Above: Cherub handblown glass lamp; go to Ochre.
Above: Ochre partner Harriet Maxwell MacDonald uses pink without being prim in her London apartment.
Above: A dramatic pink Jacobsen egg chair in a photo by Dylan Thomas.
Below: A window painted pink; an easy way to add a dash of color without committing to painting a whole room.
Below: A Tom Dixon chair for George Smith upholstered in pink velvet.
Above: Designer Vanessa Bruno's Parisian apartment; in Manhattan, Saxony Carpet is a good source for high-quality wool carpet in a range of colors; on the West Coast, California Carpet is great for custom-sized solid carpets from a variety of manufacturers. The tubular chrome Bachelor Chair is by Verner Panton.
Above: Notice how the pink bedspread enlivens an otherwise somber room; recreate the look with Garnet Hill's lightweight Lattice Cotton Blanket; $178 for a king size in berry.
Below: Pink accents in a London bath.
Above: A Shaker peg rack painted pale pink add a touch of whimsy to this entry hall, from the portfolio of Nick Pope.
Below: A kitchen featuring pink counters from Durat.
Above: A pink Smeg refrigerator in an English country kitchen; via The Kitchen Designer.
Above: A room in London by Kathy Dalwood.
Above: A living space photographed by Mark Burstyn.
Above: A study featured in Domino Magazine.
(Visited 64 times, 1 visits today)