Is it possible brass is having a moment? Triggered by a brushed stainless/chrome fatigue? Here are some examples:
Above: An Ilse Crawford composition at the Grand Hotel Stockholm. Strangely, the brass pendant light and brass bin pulls work with the chrome faucet.
Above: The Unlaquered Solid Brass Bin Pull will age naturally; $4.49 at House of Antique Hardware. 
Above: A lyrical stair railing from the GL Strand Museum in Copenhagen; photo courtesy of Reference Library.
Above: Vervloet Collection contemporary Brass Door Lever from E. R. Butler.
Above: Designed by Alvar Aalto in 1939, the Golden Bell Pendant Lamp A330S was reintroduced in 2007 by Artek and is available in brass- or chrome-plated steel or white-painted steel (the inner surface is painted white); €210 at Artek. In the US, The Chrome A330S Pendant is $290 at Y Lighting, and the Brass A330S Pendant is $290 at Matter in Brooklyn.
Above: Pumpkin side table by Turkish firm Autoban.
Above: Brass Candlestick by Estrid Ericson; 15.5 inches tall, available at Just Scandinavian in New York.
Above: Calvin Klein has used items from the The Hook Lady in his photo shoots.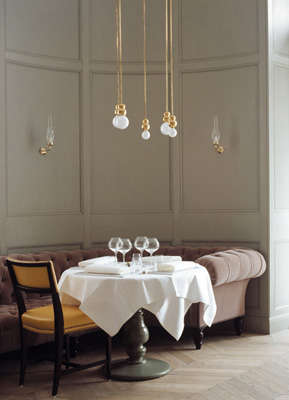 Above: Ilse Crawford used a suite of Ball Lights by Michael Anastassiades (available at Liberty of London) in her design for the Grand Hotel Stockholm dining room.
Above: We admire these simple brass reading lights designed by UK architect John Glew. The lights are manufactured by Ize in London; or fashion your own using parts from Grand Brass Lamp Parts, a Connecticut company that sells lighting and chandelier parts. 
(Visited 20 times, 1 visits today)