I was lucky enough to spend a few days in Copenhagen recently (new favorite city?): While wandering through the shops I noticed an abundance of fluorescent colors, especially at Hay, which offers tea towels and linens by neon-happy Dutch designers Scholten & Baijings. Here's a roundup of some interiors featuring dashes of fluorescence:
Above: Framed prints in the home of Sarah Illenberger, via Freunde von Freuden.
Above: A window with an off-kilter yellow detail; photo by Magnus Anesund.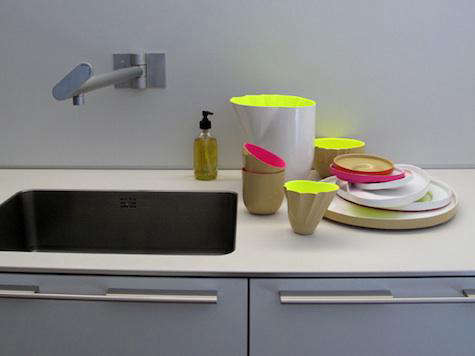 Above: Danish company Maison Sauvage produces a line of ceramics with neon interiors.
Above: Hay's line of Tea Towels are $32 for a set of two at A + R in Los Angeles.
Above: A fluorescent green Liv Light in a Scandinavian dining room.
Above: A fluorescent pink lampshade in Clerkenwell dining room; photo by Christine Hanway.
Above two photos: Hay's Box Tea Towels are $32 for a set of two at A + R.
(Visited 1 times, 1 visits today)