Architecture grad student Hank Butitta purchased a used school bus on Craig's List for $3,000 and spent $6,000 converting it into living quarters for a trip across the country. Was this a young architect's folly or an earnest investigation into future ways to live?
The backstory: The week Hank was supposed to start working on his masters thesis at the University of Minnesota, he was still without a project. Tired of creating designs on paper that never got built, and interested in Tiny House Living, he had planned to build a small cabin on a piece of land his grandfather owns just north of the Wisconsin Dells. Unfortunately, restrictive building codes meant that the project could only be built so small (not small enough for Hank and his limited budget). Abandoning the idea, he bought a bus to renovate instead.  
In 15 weeks and for less than a down payment on a house, he points out, he managed to design, prototype, and build a rolling home complete with living room, bedroom, kitchen, and bathroom all in 225 square feet. Not surprisingly, his project met with great acclaim from his architecture school critics and the general public alike. In August, Hank embarked on a trip across the country to test the functionality of what he built. He plans to pick up and drop off friends and family off along the way; go to Hank Bought a Bus to watch the journey evolve and find out what Hank Butitta is thinking of doing next. 
Photography and Video by Justin Evidon via Hank Bought a Bus.
Above: Hank painted his bus a military green that he likens to "urban camouflage." 
Above: Linger on this image to see the bus windows with and without their insulation panels. "Windows contribute greatly to the open feeling in such a small space," says Hank. "Many bus conversions cover a majority of the windows to aid in privacy and insulation, which results in a dramatic reduction in natural lighting…In order to mitigate issues of privacy and insulation, drop-down translucent insulation panels were built into the lower walls, and can be raised into place with the aid of magnets." To bring more light into the space, Hank installed two skylights where the bus's emergency hatches had been.
Above: The kitchen currently occupies two window bays. There are plans for one of the bays to become a chest refrigerator, and for a gas cooktop to be installed. This past summer the travelers made do with a portable propane stove and a cooler.
Above: LED strip lighting, hidden in the reveal where the ceiling meets the wall, is used to light the interior. The lights are switched by zone, and are dimmable to achieve the proper mood. Cooking at night, however, is best done with the aid of a headlight.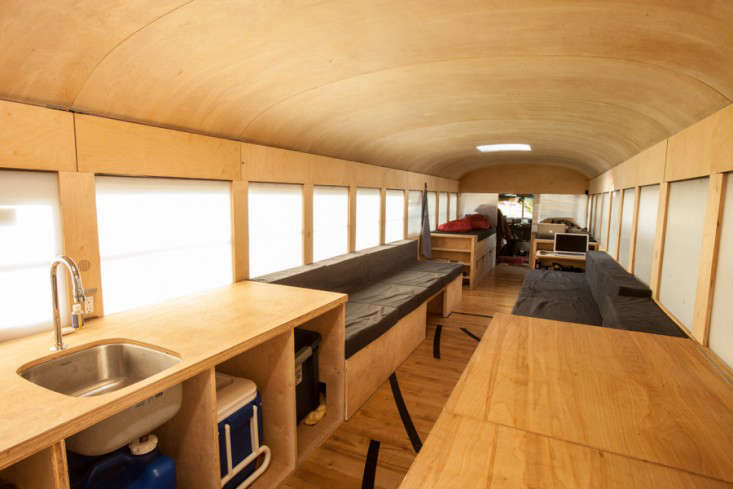 Above: Hank set out to create a living space that is as open and flexible as possible in 225 square feet. He explains: "In order to accomplish this, I set self-imposed guidelines that eliminated any furniture or structure above the bottom edge of the window, allowing the space to remain continuous while maintaining clear sight lines from one end of the space to the other, even while seated." To further free up the space, Hank developed a thin wall system that integrates the required insulation, electrical wiring, and lighting while allowing the interior to be free of obstruction. The ceiling is covered in plywood flexed by compression, and the floor is reclaimed gymnasium flooring.
Above: As Hank demonstrates, the seating area is large and versatile: "The faces of these seats fold out into the aisle to create a platform that can be covered with neighboring cushions to make a queen-sized sleeping area. The next seat down on either side of the aisle can be raised or lowered to create a table surface for eating or working. This allows for up to four people to have table space without having to climb over each other. The final seat features a large lockable storage bay underneath."
Above: The bus has a sleeping capacity of up to six adults. The "bedroom" is comprised of two narrow beds on either side of the aisle, each with drawers and deep storage beneath the beds, and built-in shelves facing the seating area. In order to accommodate varied sleeping arrangements, part of the port-side bed rolls into the center aisle, creating, with the addition of a third mattress, a queen-sized sleeping area. 
Above: The designer reoriented the door to the back of the bus. One side of the aisle is walled off to enclose the toilet, which is portable for now, but eventually will be replaced by a plumbed toilet.
Above: Enjoying the open road and the panoramic views. 
Above: Working with the even arrangement of the window bays, Hank broke the space into modular units of 28 inches square, leaving an aisle that is also 28 inches wide. The modular units are grouped to create four primary zones: bathroom, kitchen, seating, and sleeping.
Above: Hank Butitta talks about his bus design. 
There are many ways to repurpose a vehicle; see On the Road: Makeover for a Maine Bus for another solution.
You need to login or register to view and manage your bookmarks.