Practical doesn't have to be boring: here's a roundup of red office accessories to relieve workplace tedium. 
Above: The TPS File Cabinet in red powder-coated steel (also available in carbon or white) features 2-inch castors with brakes on the front two wheels; $149 at CB2.
Above: For desktop storage, the Bisley Five-Drawer Cabinet in powder-coated steel is 13 inches high.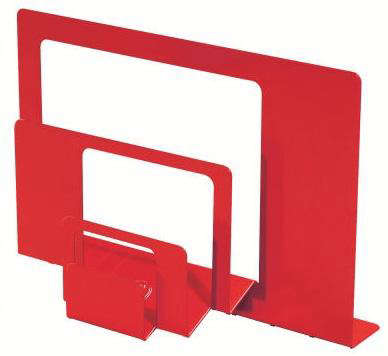 Above: Blu Dot's 2D:3D Letter Holder is $25 at All Modern.
Above: The Triple Hook-Up Strip is $19 at Velocity Art and Design.
Above: Made of heavyweight recycled fiberboard, the large Stockholm Document Box is $12.99 and the smaller Stockholm Letter Box is $9.99 at the Container Store.
Above: Designed by Dorothee Becker (wife of lighting designer Ingo Maurer) in 1969, the classic wall-mounted Utensilo Plastic Organizer is back in production from Vitra and is available in several sizes and colors (including a chrome version) at Velocity Art & Design. Prices start at $350 for the Small Red Utensilo, which measures 26.75 inches high and 20.5 inches wide.
Above: The Spot-On Magnet Hook is available in six colors and can support up to 5 pounds; $5 each at Velocity Art and Design.
(Visited 70 times, 1 visits today)