An icon of sixties utilitarian chic, Massimo and Lella Vignelli's stackable melamine plates and mugs tower on. They were made in the US by Heller, the brainchild of design impresario Alan Heller, who we were sad to hear passed away recently: read Penelope Green's New York Times' tribute to him here. At Remodelista, we don't usually get behind plastic, but Hellerware, as it came to be known, is an exception.
I myself grew up in a house outside of Boston laden with the stuff; it provided the perfect companion to my mother's Marimekko tablecloths from Design Research in Cambridge. And she still uses her stack. The late Vignellis—husband-and-wife architect-designer collaborators who left their imprint on everything from NYC's subway signage and maps to the Bloomingdale's bag—would not be surprised. "If you do it right," Massimo said, "it will last forever."
Above: The classic Hellerware quartet. The line was in continuous production from 1971 until recent years. Sold by the MoMA Design Store and DWR, among others, the latest versions were made in white only using the original molds and a BPA-free techno polymer.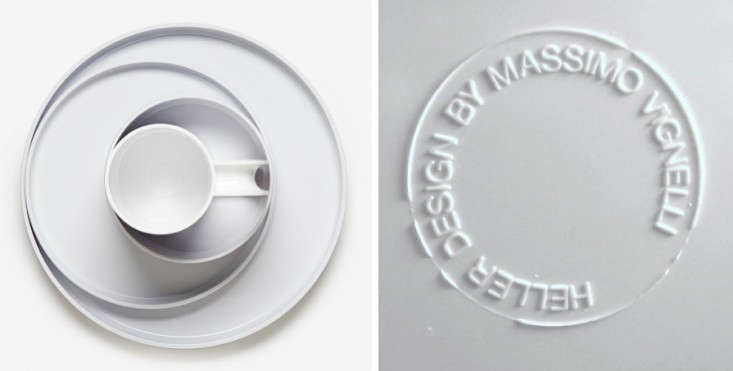 Above: Massimo created the first of the melamine tableware in his native Milan in 1964, and it won that year's Compasso d'Oro Award for Good Design. He explained to Edible Manhattan: "I had a client making plastic tiles. I went to see the factory and noticed that they were also using the plastic to make ashtrays with Mickey Mouse and things like that. I thought, 'Can't you make anything better than that?' And a set of compact dinnerware came to my mind. I went back to the office, and in two hours I had the design fully completed."
 In 1971–the year Massimo and Lella founded Vignelli Associates in New York–Alan Heller's new company introduced the line in the US as its very first product.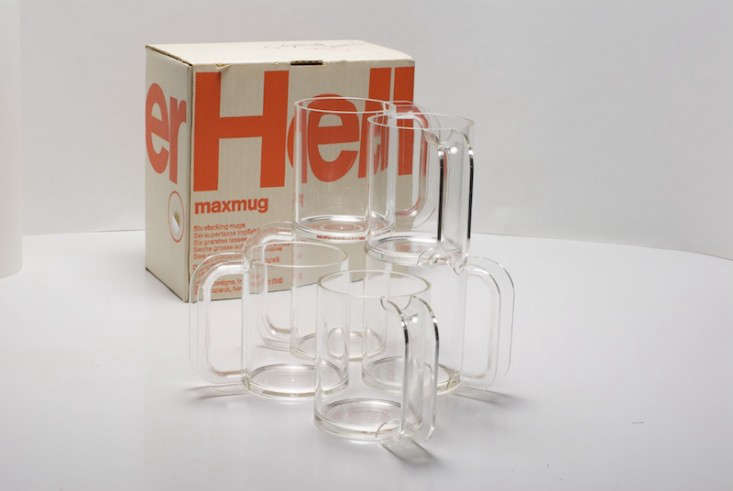 Above: Massimo designed the signature box for Heller in his beloved Helvetica (and later explained his affinity for the typeface in the documentary Helvetica).
In 2015, Alan Heller told us how his company came to be synonymous with the design: "I met Massimo and Lella in the late sixties and we all fell in love. In one of our conversations, the dinnerware design came up. I was excited, even though the Italian manufacturer had gone bankrupt. I decided that I'd fly to Italy and find out what had happened to the bankrupt company. The assets had been sold to another company and most of the production was those Mickey Mouse ashtrays. I found the molds and negotiated with the new owners to buy the unused molds and have them produce the dinnerware again; they were delighted, since the molds had just been sitting in a corner of their warehouse.
Six months after we introduced the dinnerware it was accepted into the Museum of Modern Art permanent design collection. The business grew, and in 1975 we decided to move the molds to the US because of horrendous labor strikes in Italy."
Above: Vignelli's original tableware was in bright yellow; Heller introduced a range of bold colors in the mid-seventies and created a best seller. Over the years, the Vignellis also designed additional pieces for the collection, including these rainbow mugs scaled for American coffee. Adding a "dam" to keep coffee from running down the slide-like handle was a huge concession made for the US market. These mugs are available from Luola on Etsy. Photograph courtesy of Jessyca Barron, owner of Luola.
Operating under the motto "good design at affordable prices," Alan Heller went on to produce, among other things, a Philippe Starck toilet brush, the Excalibur, and Mario Bellini's molded plastic Bellini chair, some of which you can see on his company website.
Above: Heller dinnerware is no longer in production but vintage pieces are easy to find on eBay and Etsy, by the piece and by the set. Reminiscing about his days working with Massimo, Heller wrote to us: "For me, everything he designed was extraordinary, even the designs that didn't hit the target. Massimo's rationalization usually was: 'move the target!'" Photograph from Etsy seller Object of Beauty.
For more iconic modern tableware, see our Object Lesson on Finnish designer Kaj Franck's Teema Dinnerware, and 10 Easy Pieces roundups of Architect-Designed Dinnerware and Italian Flatware.
(Visited 568 times, 7 visits today)