How could you not love a restaurant named for an heirloom apple? Northern Spy Food Co. offers homespun style and farm-to-table cuisine on a gritty street in the East Village.
When Christopher Ronis and Christophe Hille set out to create Northern Spy Food Co., a restaurant/general store, their vision was to create a place that felt like an escape from the urban jungle. To achieve the handmade look, they worked with Kermit and Azadeh Westergaard of design studio Made by Two, who incorporated recycled elements throughout the interiors. For finishes, the team used low-luster paints, natural tung oil finish on the floors, and Danish oil on the tables rather than the polyurethane typically seen in commercial settings. Hille's mother, who does antique book restoration, pitched in, creating the delicate vintage wallpaper installations. Toward the back of the restaurant, a small general store stocks locally made goods displayed on shelving made from salvaged chicken coops, The homey atmosphere helps keep customers returning (as Ronis says, "Good food is only part of the formula"). For more information, go to Northern Spy Food Co.
Above: Blooms from the Greenmarket and a homemade apple pie.
Above: The flooring is made from reclaimed hickory.
Above: The original brick walls were painted white for a sense of airiness.
Above: The dining tables are made with wood from salvaged bowling alley lanes.
Above: A pillar wrapped in rope contributes to the farm feel.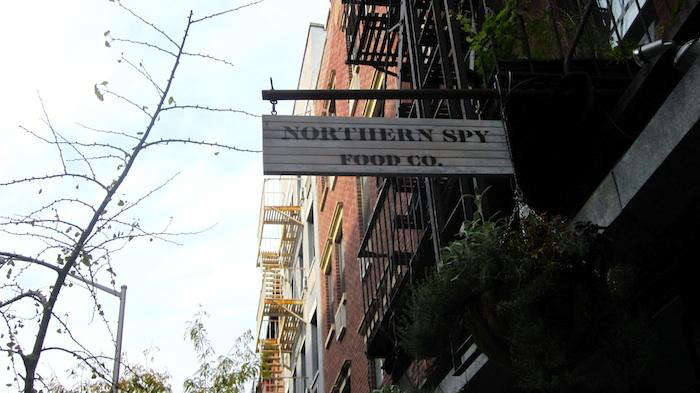 Above: The handmade look of Northern Spy Food Co.'s sign signals more rusticity to come.
You need to login or register to view and manage your bookmarks.