We've long been fans of marine-style hardware, and nautical cleats are no exception. Designed to hold boat lines (and handle weight of the attached bouy or boat), this tough, weather-proof, high quality piece of metal can easily take on the role of cabinet pull, drawer handle, or hook. See Alexa's DIY: Nautical Cleat as Toilet Roll Holder for another creative use of this piece of marine hardware.
Above: Nautical cleats make great cabinet pulls, especially in the kitchen an bath. Image via 215 Ash Lane.
Above: The Stainless Steel Yacht Cleat is available in six sizes ranging from 4 inches to 12 inches; $12.49 to $94.99 at West Marine.
Above: The teardrop shape of the Perko Chrome-Plated Zinc Teardrop Cleat is perfect to use as a towel or coat hook (hang vertically). Available in 2-, 3-, and 4.5-inch lengths; $14.99 to $23.99 per pair respectively at West Marine.
Above: The Atwood Chrome-plated Zinc Open Base Cleat is available in 4.5 and 6 inch sizes; $19.49 and $28.99 for a set of four cleats at West Marine.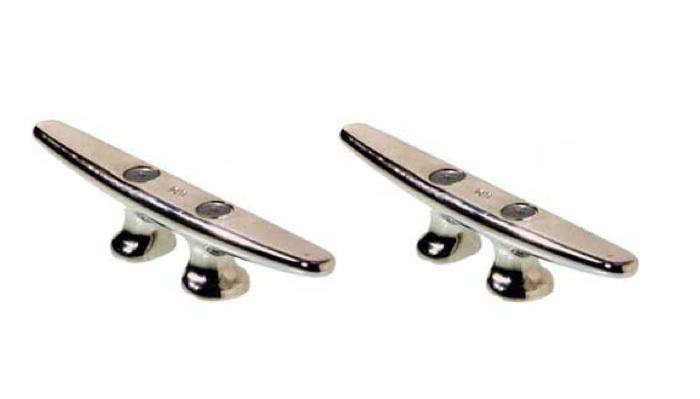 Above: No-nonsense shape with a refined stainless steel finish, the Shaeffer Open Base Cleat measures 4.75 inches (larger sizes also available); $31.99 at West Marine. 
Above: A nautical coat rack made of reclaimed wood and galvanized boat cleats from Dockside Cottage on Etsy. The design is no longer available, but you can create your own using the galvanized cleats shown below.
Above: The rustic Sea Dog Galvanized Cleats can be hung horizontally or vertically to use as hooks or cabinet pulls. Offered in seven sizes ranging from 4 inches to 14 inches; $1.99 to $24.99, depending on size, at West Marine.
Above: We're picturing this white polyester-coated Dock Edge High Profile Dock Cleat in a laundry room for hanging laundry bags and wet beach towels; $19.49 to $33.99.
Interested in other ideas for Marine-Style Hardware?
N.B.: This post is an update; the original story ran on June 12, 2013 as part of our Nautical Notes issue.
(Visited 1,131 times, 1 visits today)