Located along the old harbor in Reykjaví­k, Iceland, Mar is a seafood restaurant with a sophisticated interior and menu that are salutes to the sea, its inhabitants, and the history of Iceland's fishing industry.
Today most of Iceland's fishing industry has pivoted east to the Sundahöfn port, but the infrastructure of the old harbor has been preserved thanks to businesses like Mar and the proximity of popular shopping street, Laugavegur. Hafsteinn Júlí­usson and Karitas Sveinsdóttir of HAF Studio were interested in relating both the concept and design of Mar to the surrounding docks, built back in 1917. Here's a look at how HAF Studio's idea unfolded: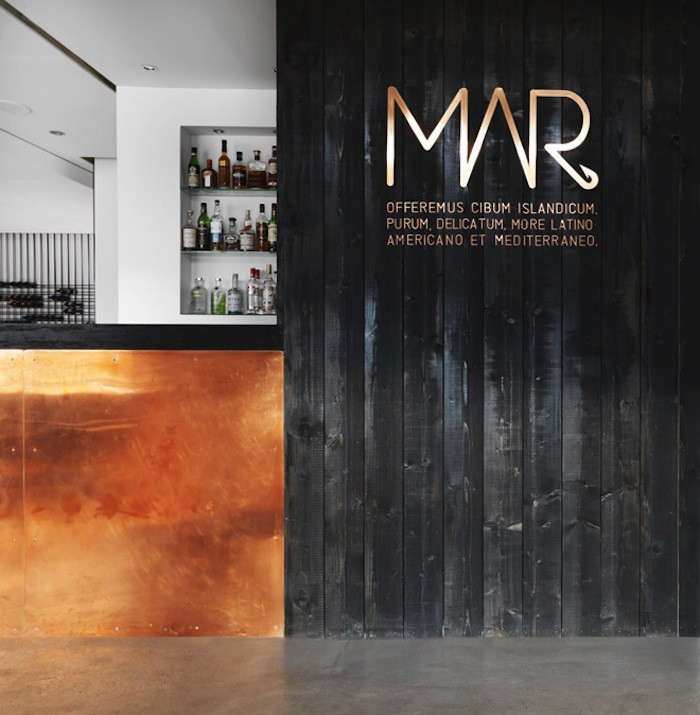 Above: Like the name of the restaurant, the signage is in Latin; this one informs diners of the menu style: "an Icelandic offering of pure and delicate Latin American and Mediterranean-style cuisine."
Above: HAF Studio sets the tone of the restaurant with a color palette of black and pale wood, white, teal green, and deep orange.
Above: Paneled walls of black-stained wood reference the weathered wooden houses traditional to Iceland's fishing community.
Above: A map highlights the chef's points of gastronomic inspiration; it was designed by Siggi Odds, who HAF commissioned to create of the restaurant's graphics.
Above: Overhead pendant light bulbs are caught, like buoys or fish, in a web of colored rope–a kitschy concept that HAF presents in a high style way.
Above: The designers livened up the room by mixing black bentwood chairs with single chairs in unexpected colors. 
Above: The bar is sheathed in brass.
Above: Prints of seabirds and a breaching whale are framed on the wall. A spot of brass surrounds the porthole window looking into the WC lounge.
Above: Mirrored fish swim against a single teal blue wall in the back of the restaurant.
Above: Tables are set with custom ceramics by artist Guí°ní½ Hafsteins. Their organic shapes and colors are inspired by the seabird, skarfur, a kind of raven. The restaurant's ceramics and graphic prints are available at Mí½rin, the shop just next door to Mar.
Above: HAF interwove standing metal bars to wine storage along the wall.
For those visiting Reykjaví­k's, another must-see is Spark Design Space, a concept shop detailed in our recent post, The Hub for Iceland Design. On Gardenista, have a look at our piece on Iceland's bathing spot with volcanic powers, the Blue Lagoon.
Location of Mar on Reykjaví­k's old harbor:
(Visited 11 times, 1 visits today)