My own personal New Year's resolution has to do with laundry: perhaps with these products I can learn to embrace the process rather than avoid it.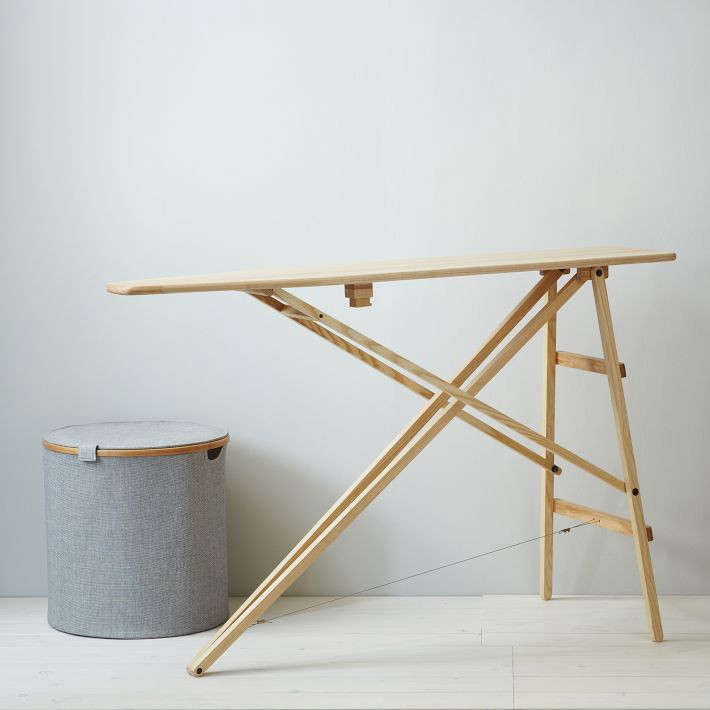 Above: The Mid-Century Ironing Board made of natural ashwood is $199 from West Elm.
Above: Store laundry powder detergent in the Rectangular Yellow Bin with Lid; $19.95 from Crate and Barrel's Clean Slate collection.
Above: We'd use the White Porcelain Scoop from Brook Farm General Store for dispensing detergent; $39.
Above: For liquid laundry detergent, consider a Ball Mason Quart Jar; $19.95 from FB Studio via Etsy.
Above: The Handmade Wooden Clothes Horse is $227.24 from Not on the High Street. For something similar, consider the Wooden Clothes Dryer; NZD $145 from Everyday Needs. In the US, the Large Wood Drying Rack is $79.95 from Crate & Barrel's Clean Slate line.
Above: Brook Farm General Store sells a pack of 20 classic Wooden Spring Clothespins in a plain muslin drawstring bag; $12. Photo via The Linen Works.
Above: The Homz Canvas Clothes Pin Bag is $5.79 from Ace Hardware.
Above: From Tangent of Sweden, sun flower and soy bean stain remover in a brown glass bottle. The company's Natural Laundry Potions are available from Tangent Garment Care directly; we hope they make their way to the US soon.
Can't get enough cleaning solutions? We're with you. Visit all our Cleaning Supplies and Domestic Science posts, including 10 Ways to Live with Less from Zero Waste Home.