La Soup Populaire recently opened its doors in a former brewery building in Berlin that's possibly the most dramatically raw industrial space we've come across. With two Michelin-star chef (and owner) Tim Raue at the helm, the restaurant offers traditional German food (he refers to it as "people's cuisine") and a revolving display of contemporary art. The menu–which is limited to four appetizers and main courses and two desserts–is created in response to the art; shows take place in the lower level Studio Room, which is open for dining. The space is windowless but warmly lit and furnished simply to "direct the focus to the exhibited artworks," says Raue, "and, of course, to that which is being served."
La Soupe Populaire is open Thursdays through Sundays, from noon to midnight. To learn more, go to La Soupe Populaire.
Above: The restaurant unfolds in a preserved industrial setting that was once a brewery.
Above: Tables and stools built from salvaged wood. 
Above: An idea to borrow at home–plates and glassware stacked in a vintage metal office rack.
Above: Old factory lights hang over a wood table surrounded by wicker chairs and bench seating. Note the topiaries in trophy planters.
Above: The windowless space is lit by a combination of industrial pendants and spotlights.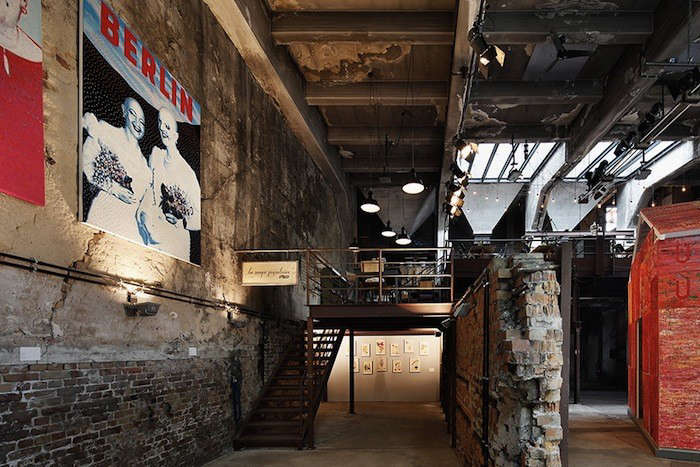 Above: On-going contemporary art shows take place in the Studio Room at the lower level. To learn more about the exhibits, go to Bötzow Berlin.  
See map below for location of La Soupe Populaire. 
Heading to Berlin? See our City Guide for more visit-worthy places. 
View Larger Map
(Visited 21 times, 1 visits today)